Hello book loving people! Guess who finally remembered about her Teaser Tuesday segment?? Meeee! Even over Christmas week I forgot about it. ugh. But here I am again (finally!) to post another Teaser Tuesday. My twelfth one! I think it's pretty crazy that I've done this many! So now before I start ranting too much before the post, have a little Frozen gif and enjoy my first Teaser Tuesday of 2017!!
"Elide went to two other taverns in the town – followed the same exact pattern. The news shifted slightly with each recounting, but the general consensus was that Aelin was on the move, perhaps south or east, and no one knew what to expect." -Page 406, Empire of Storms by Sarah J. Maas
It should be no surprise that this is my current read! I've been ranting about it all over my bookstagram. In case you don't know what happens, or have never heard ofthis book, it is the fifth installment in Sarah's (incredible, sensational) series, Throne of Glass. Below is the synopsis if you are interested!
The long path to the throne has only just begun for Aelin Galathynius. Loyalties have been broken and bought, friends have been lost and gained, and those who possess magic find themselves at odds with those don't.

As the kingdoms of Erilea fracture around her, enemies must become allies if Aelin is to keep those she loves from falling to the dark forces poised to claim her world. With war looming on all horizons, the only chance for salvation lies in a desperate quest that may mark the end of everything Aelin holds dear.

Aelin's journey from assassin to queen has entranced millions across the globe, and this fifth installment will leave fans breathless. Will Aelin succeed in keeping her world from splintering, or will it all come crashing down?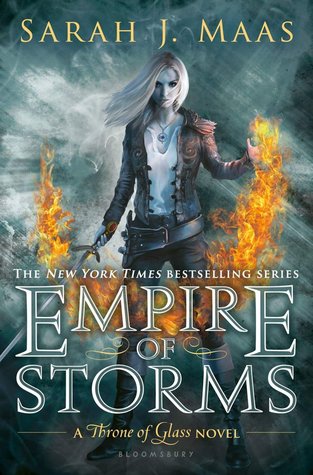 I have been enjoying every single second of this novel! And it is even more fun to read knowing that one of my best bookish friends, Emily (from WhoGaveTheWrite) is right behind me in this series. It's so much fun having someone to talk about this series with!
Also, I have got to say, my view on the characters in this novel has changed so much! I used to hate Manon with a fiery passion but, she's recently become one of my favorites! But the big question of the whole book is where is Chaol? Can I hope to see him at the end?
I hope you enjoyed today's Teaser Tuesday and come back next Tuesday for another Teaser Tuesday!
Happy Reading!
~Alaina