It's only been a few days since I finished this book and I still haven't recovered. This book split me a part and ripped everything out of me. It made me shed buckets of tears. And I don't know if I will ever be better….
Hey book nerds! It's Alaina and as you read above, I recently finished the wonderful glory of Empire of Storms, the 5th installment of the Throne of Glass series. And boy oh boy, this book went way above my standards.
Before I begin, I will let you all know that this will be both a spoiler and spoiler-free review. it will be separated in half so that those who haven't read the series or haven't quite reached book 5 can still enjoy the review.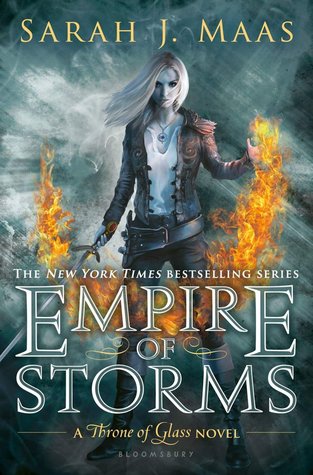 INFORMATION:
Title/Author: Empire of Storms by Sarah J. Maas
Series: Throne of Glass (#5)
Publisher: Bloomsbury USA Childrens
Release Date: September 6, 2016
Page Count: 693
ISBN: 9781619636071
SYNOPSIS:
The long path to the throne has only just begun for Aelin Galathynius. Loyalties have been broken and bought, friends have been lost and gained, and those who possess magic find themselves at odds with those don't.
As the kingdoms of Erilea fracture around her, enemies must become allies if Aelin is to keep those she loves from falling to the dark forces poised to claim her world. With war looming on all horizons, the only chance for salvation lies in a desperate quest that may mark the end of everything Aelin holds dear.
Aelin's journey from assassin to queen has entranced millions across the globe, and this fifth installment will leave fans breathless. Will Aelin succeed in keeping her world from splintering, or will it all come crashing down?
SPOILER-FREE THOUGHTS:
For starters, if you haven't picked up Throne of Glass yet, what are you doing with your life? Although it's not that great of a book, Sarah's writing improves over the series and you will not want to miss it.
Basically, as some of you may already know, the Throne of Glass series follows a young female by the name of Celaena Sardothien as she struggles to save her kingdom. She lived a rough past but has finally come back to retrieve her throne, only to be caught up in many difficult obstructions. That's probably the easiest thing to explain the series.
But holy, this book was everything you could ever want in a fantasy book: badass heroines kicking butt, swoony romance and handsome fae. What more could you want? And although this book was super close to 700 pages, it felt like I just breezed straight through it! From all of the violent fights and sexy romance, I found that time flew by so fast and before I knew it, I was finished.
There are also some kick-butt characters in this series including Celaena Sardothien (an assassin with a rough childhood), Aelin Galathynius (the lost heir of Terrasen), Rowan Whitethorn (BAAEEEEE), Lysandra (the shape shifting heroine of EOS) and Dorian Havilliard (the *cough* prince of Adarlan). And more and more keep coming into the series!
That's it for the non-spoiler section! I hoped you liked it and decide to pick up either the series or this book in the future because, it's as badass as badass gets! Don't forget to like comment and follow. Now, on to spoiler joy!
SPOILER THOUGHTS (BEWARE, THIS IS INTENSE):
Well, I guess we should start with the beginning before I get to that…. speechless ending (devastating, heartbreaking? There are too many words for it). But, I have to say, that prologue was the beginning of the heart shattering for me. I absolutely loved how Sarah gave us a flashback to Elena and Gavin's time. I always found the series "past" (like before it began) very interesting and I was overjoyed when I started reading that prologue. From all of the other books, we only ever got to see Elena in the little room behind the room Celaena was staying in at the castle…..THE TOMB! I almost forgot what it was called. But anyways, since I got this book for Christmas, I started reading it on the way home from my grandparents, and I was ON THE VERGE OF TEARS. Like actually.
I loved how Elide was such a huge part of this novel. Wasn't the first chapter her? I think. And through the novel I became such a huge #elorcan/#loride shipper. ELIDE AND LORCAN WERE THE CUTEST. Well, aside from that cruel ending. But they should've married or something. Even their names were similar: Elide Lochan, Lorcan Salvaterre. I thought it was the cutest that Sarah J. Maas made their names like that. It was probably a mistake but, it was the best mistake ever.
There is only one word that I can think of to describe this series and that is: ROWAELIN. If you don't like them together, I don't know if I can handle talking to you. Just kidding, I love talking to all of you. But, I was over the moon when I first learned that we were going to get a steamy Rowaelin scene in this novel, and it definitely didn't disappoint. And that scene where Rowan and Aelin shared there magic powers was BOMB.COM. Ahhh, I could probably obsess over these two forever, but I think I should move on.
Can I just say, Lysandra killed it in this novel. She should win an award for most badass shape-shifter ever. She even beats Rowan. And her and Aedion were the cutest! All of their scenes together (except the ending, of course) were amazing. I just wanted them to get married or something and make possible shape-shifter babies!
The storyline of this book had to be one of my favorites out of the whole series. I loved how strong and bold Aelin and her court were throughout the novel. They were so determined to find a way to reclaim Terrasen and even though they had some dark times (*cough cough* ending), they always came back and brought more forces together. And nobody knows how much I love their court, even though Chaol wasn't in this. Yeah, where the heck was Chaol in this novel. I kept praying that at some point we would get to see how Chaol and Nesryn were doing but, that never happened.
Since I think I've ranted about this book enough I'm going to end it off by saying: this book will send you to a sobbing wreck. It will make you cry, laugh and put the biggest smiles and frowns on your face. It is a must read for all fans of the Throne of Glass series!
I hope you all enjoyed my review! Have any of you read the Throne of Glass series? Leave your thoughts below! Don't forget to like and comment.
Happy Reading!
~Alaina