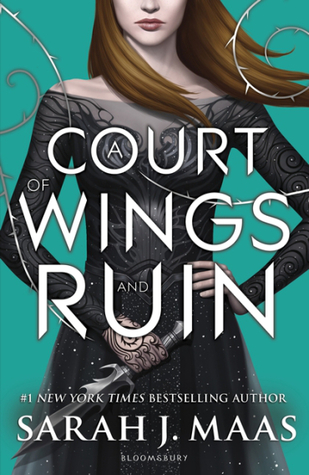 Information…
Title/Author: A Court of Wings and Ruin by Sarah J. Maas
Series: A Court of Thorns and Roses (#3)
Publisher: Bloomsbury Childrens Books
Release Date: May 2, 2017
Genre: YA, Fantasy
Rating: ✭✭✭✭✩
Looming war threatens all Feyre holds dear in the third volume of the #1 New York Times bestselling A Court of Thorns and Roses series.

Feyre has returned to the Spring Court, determined to gather information on Tamlin's manoeuvrings and the invading king threatening to bring Prythian to its knees. But to do so she must play a deadly game of deceit – and one slip may spell doom not only for Feyre, but for her world as well.

As war bears down upon them all, Feyre must decide who to trust amongst the dazzling and lethal High Lords – and hunt for allies in unexpected places. 

In this thrilling third book in the #1 New York Times bestselling series from Sarah J. Maas, the earth will be painted red as mighty armies grapple for power over the one thing that could destroy them all.
I will admit, A Court of Mist and Fury was definitely better than this finale. Not that ACOWAR was bad, it just lacked it some things that I really wanted to see. Things that were in ACOMAF that I was hoping to see again. But, this violence-heavy novel definitely kept my attention and satisfied my needs for the ending of this trilogy.
What I liked…
Let's dive straight into what I loved most: the violence. I'm usually never a lover of violence, but this book was filled with so much of it that I started to really enjoy it. Obviously, most readers expected to see a big war at the end of the book (TOTALLY OBVIOUS) but there was so much more violence. I can't even count how many fights there were in the novel. It was bloody and awesome. Whether it was just a training scene between Cassian and Rhys or it was a full-out war, there was enough violence in this book to last a lifetime!
I really enjoyed reading about the evolution of each character throughout the series. As ACOWAR is the final book in an intense, fantasy series, we got to see the end of each character's evolution. Whether we are talking about the differences between Feyre from ACOTAR to ACOWAR or how both Elain and Nesta changed between ACOMAF and ACOWAR, it's a big difference. Every character changed, for better and for worse, and it was really neat to see how each character changed throughout the series.
I also really liked the huge shifts in the storyline. It still ended how anybody who has read ACOTAR would expect it to end, but there are scenes in ACOWAR that you wouldn't expect to happen… EVER. There are both people that you would never expect to come to the Night Court's rescue and major cliffhangers that WILL drive you insane. Some of these unexpected scenes you will hate, while others you will love. But let me tell you, you definitely will not hate Tamlin as much as before.
Finally, I have to talk a little bit about this gorgeous cover. I don't think there is one thing I dislike about this cover. The background is a beautiful shade of green and Feyre looks both beautiful and fierce in her "Charlie Bowater inspired" dress.
What I didn't like…
I found that this novel lacked a lot of romance that I was anticipating. I constantly read reviews that listed this book as "NA" or "Too mature for young readers," and it made m believe that this novel would be romance-heavy. But honestly, there weren't many romantic scenes in this book . . . Unless you are talking about Cassian and Nesta, whom I loved. But I found that this book didn't have enough romantic scenes between Feyre and Rhysand to satisfy me.
I also found that this book lacked a lot of Lucien scenes. After the events of ACOMAF, I thought that Lucien would be in almost every chapter of this book. But about a third into this book, Sarah J. Maas sent Lucien away until the end of the book. He had so much potential in this book and we were unable to see most of it.
Favorite quotes…
"Night Triumphant- and the Stars Eternal."
"I would have waited five hundred more years for you. A thousand years. And if this was all the time we were allowed to have… the wait was worth it."
Overall…
Although this book wasn't able to beat ACOMAF, I was still really able to enjoy it. It was filled with enough violence and humor to last me through 2018. In the end, I gave this book 4/5 stars. If you have not picked up this series yet, you need to go run to your local bookstore and grab a copy of A Court of Thorns and Roses. Although you might have mixed feelings after the first novel, the last two are worth starting this trilogy!
Amazon | Chapters/Indigo | Barnes & Noble | Book Depository
Happy Reading,
Alaina