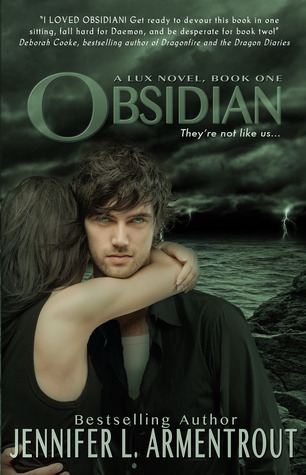 Title/Author: Obsidian by Jennifer L. Armentrout
Series: Lux (#1)
Release Date: May 8th, 2012
Publisher: Entangled Teen
Genre: Paranormal, Science-Fiction
Rating:✭✭✭✭✭
Starting over sucks.

When we moved to West Virginia right before my senior year, I'd pretty much resigned myself to thick accents, dodgy internet access, and a whole lot of boring… until I spotted my hot neighbor, with his looming height and eerie green eyes. Things were looking up.

And then he opened his mouth.

Daemon is infuriating. Arrogant. Stab-worthy. We do not get along. At all. But when a stranger attacks me and Daemon literally freezes time with a wave of his hand, well, something… unexpected happens.

The hot alien living next door marks me.

You heard me. Alien. Turns out Daemon and his sister have a galaxy of enemies wanting to steal their abilities, and Daemon's touch has me lit up like the Vegas Strip. The only way I'm getting out of this alive is by sticking close to Daemon until my alien mojo fades.

If I don't kill him first, that is.
I recently gave this book, yet again, another re-read and I thought it would be the perfect time to write up a new review. The previous one (CLICK HERE if you would like to check it out) was from numerous years ago and to be honest, it is really crappy. It hardly gets any views, and seeing that it is for my favorite book, it needs more recognition.
For those of you that don't already know, Obsidian by Jennifer L. Armentrout is the first book is a thrilling paranormal/sci-fi series. This series features aliens in high school, kick-ass females and a whole lot of smoking hot men. It is amazing and I definitely recommend giving it a shot, no matter how cliche it may sound!

This fast-paced novel took my breath away! There were never any boring scenes, nor were there any scenes that seemed to drag on forever. Within just over 300 pages, Jennifer L. Armentrout has given extraterrestrial beings another shot in the YA literature. Especially when they aren't slimy, green midgets.
This book truly does start like any normal YA novel. Teenage book blogger, Katy Swartz and her mother move from Florida to a small town in West Virginia for a new beginning after her father's traumatic death. However, what she doesn't expect is to be moving in next door to a household of aliens. It's unexpected, but definitely a thrill for us readers!
To be totally honest, my favorite part of this novel is the fact that our main character is a book blogger. If you didn't already know, I loved the idea of book blogging so much after reading this book that it inspired me to create a blog of my own shortly after reading this book (STRONG SINCE 2015). But Katy Swartz is your average, naive teenager, spending her days suffering through trigonometry, and her nights communicating with other readers around the world through her blog "Katy's Krazy Obsession." If there is any character that I find myself relating to most, it is definitely Katy.
But really, this book wasn't anything special until our swoon-worthy hottie, Daemon Black decided to make an appearance. With his tousled, dark waves, bright, green eyes and to-die-for body, this smoking hot (literally) man is destined to make it on to your book boyfriend list! Even though he definitely does come off as cocky at first, he really does lighten up. But really, what paranormal book doesn't contain a mysterious, bad boy?
Something else that I really enjoyed about this novel is the setting. It actually isn't often that I pick up a book set in West Virginia, let alone set in an unincorporated town. This book (mostly) takes place in Ketterman, a town that can easily found on a map, but has a population of zero. Well until the aliens and Katy decided show up. We also get a glimpse of Petersburg, a small, governed, town where Katy, Daemon and most of the other characters featured in this story go to school. But what I loved most about this setting is the fact that the author is actually from West Virginia. Although it does state in the back of the novels that she is from a totally different area of the state, there is still the possibility that she could've travelled to the regions mentioned. And with all of Jennifer L. Armentrout's descriptions throughout this novel, it is obvious that she is familiar with the area.
I also really enjoyed the idea of having two different alien races. When you originally think about aliens, you think of E.T. phoning home, right? Or maybe that's just me. But for the most part, an image comes into your mind of either Marvin the Martian or E.T.. But, Jennifer L. Armentrout has revamped aliens in her Lux series. She has created two species of aliens, Luxen and Arum, with names derived from the Latin words for light and shadow. Which is basically what they are. The Luxen are basically human-shaped beings of light, while the arum are beings of shadow. Our beloved Daemon Black and his sister Dee are Luxen and are able to manipulate light. I won't go to much farther into the idea of aliens, but it is super unique and definitely worth reading.
Something Jennifer L. Armentrout does a really good job at is creating intense scenes. But not just any intense scenes, those scenes that have so much rising action to them that by the time you hit the climax, you are either crying or speechless. It's amazing how she does it! These scenes helped keep up the pace of the novel AND shape this into such an amazing novel.

With all of the amazing characters, setting and scenes in this novel, there truly wasn't a lot I disliked. With any 5 star novel, there never is anything. But there were a few characters and antagonists that I absolutely HATED in this novel.
The big antagonist of this novel, and really the whole series, is the Department of Defense, more commonly referred to as just the "DOD." They basically keep a watchful eye on the aliens roaming across the United States and keep them in check. For Daemon and his sister, the DOD make frequent "check-in" stops at their house and have access to all of their information. Licenses, university applications, bank accounts, you name it, they know it. The DOD is the Luxen's biggest enemy in Obsidian, and become an even bigger threat in the following books.
Simon Cutters, oh Simon Cutters how I hated you. Trust me, he really isn't that bad at first. He was your average football jock who had a tendency to sleep through math lessons and hit up girls who's names ended in "Y." I was totally fine within UNTIL he decided to pick a new girl to hit on. And you know YA novels, that girl just had to be Katy. He did some unacceptable things at the Homecoming dance and after party bonfire that i will never be able to forgive him for. EVER.
The moment we were introduced to the Arum, I hated them. As they are basically made up of shadows, they can blend into darkness. Think of a creepy movie where you are in the woods on a dark night. If you were in Jennifer L. Armentrout's world of aliens, there could easily be an Arum sneaking up behind you without you even knowing. As I am totally "Team Luxen," these guys just really need to get lost.

'A smile parted his lips. "You do realize I love a challenge?"
I laughed under my breath and turned back to the front door, giving him a one-fingered salute. "So do I, Daemon. So do I."'

I can't help but give this book 5 stars! It really deserves all of the stars from me. I am actually typing this review up after my 5th read-through of this book, and I still love it as much as the first time I read it. This doesn't happen with a lot of the books I read, so I just know that Obsidian is special. I will forever love and adore Daemon and Katy's story and Jennifer L. Armentrout's humorous and cry-worthy writing. This book is a get off your butt and run to your local bookstore type of read because you NEED to read it!
Amazon | Chapters/Indigo | Barnes & Noble | Book Depository
Happy Reading,
Alaina