Hey everyone! Today I am going to be talking about some of the books I plan to read this month. Although I have a VERY hectic month planned, I have a bunch of amazing books that I am hoping to get to. Some are even re-reads! Let's get straight into the books.
Onyx by Jennifer L. Armentrout
I am actually currently re-reading this book and loving it! This is my fourth re-read of the book, and so far it is the best one yet. The first time I read it, I wasn't a huge fan of it, but I still loved it. But since then, each re-read just keeps getting better and better. I absolutely love the development of Katy and Daemon's relationship in this novel and the addition of a new character who could possibly even be counted as an antagonist? No spoilers from me!
---
Opal by Jennifer L. Armentrout
Another re-read. This is actually a close favorite of mine in the Lux series, only second to Obsidian. And I'm pretty sure you all know how much I love that book. But, this book is seriously AMAZING! Compared to both Obsidian and Onyx, this is when Katy and Daemon's relationship escalated and we got all of the romance that you could ever want! I cannot wait to jump back into this fantastic book again. Although the ending is as bad as the one in Empire of Storms, I still love this book!
---
Origin by Jennifer L. Armentrout
Hello? Have you got the hint with the past two books? This is, yet again, another re-read. Last time I read this book, I do remember it being quite a bit slower than the first three books. But, it isn't SUPER slow so I think I will be okay with it in January. If anything a slow book would kill my reading vibe in such a busy month. But, this book is filled with SHOCKING information and lots of romance to keep my attention. Ooh, and did I mention a bit of violence? Count me in!
---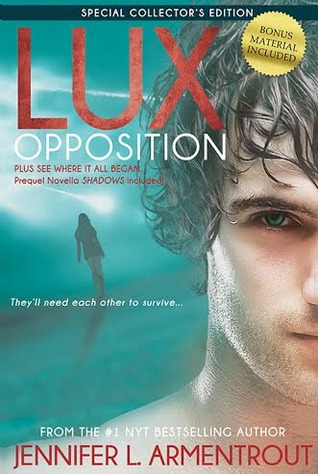 Opposition by Jennifer L. Armentrout
Well, there truly isn't such thing of re-reading a series without finishing it.  This, obviously is the last book in Jennifer L. Armentrout's Lux series, and I will admit, it is the worst. It's not bad or anything, but it is very different compared to the rest of the series. Once you get about 100 pages into this book, it starts to lighten up. By lighten up, I mean that it becomes more familiar. I still love this book, no matter how different it is from the rest of the series and am super excited to re-read this series ending!
---
Shadows by Jennifer L. Armentrout
You're probably thinking "What, I thought you were just talking about the finale…" Well, I was. But, if you know anything about the Lux series, this is actually the prequel to the series. It's a little strange to read a prequel AFTER the other series, but you can truly read it anywhere in this series. And, this is actually one of my favorite prequels ever. It features two of my favorite characters in the Lux series, Bethany and Dawson, prior to Obsidian. Like heck yea, count me in!
---
Falling Kingdoms by Morgan Rhodes
Ooooh, finally something that's not a re-read. But, I picked this up from Chapters in November, I believe, and have been super excited to read it. Originally, I wasn't even expecting to buy it. My local Chapters never has this book in stock, so when I was looking for a book to buy, I just knew I NEEDED to get it. Who knows how long it would have been before someone else bought it. I still know little to nothing about this book, but have heard wicked reviews raving about it!
---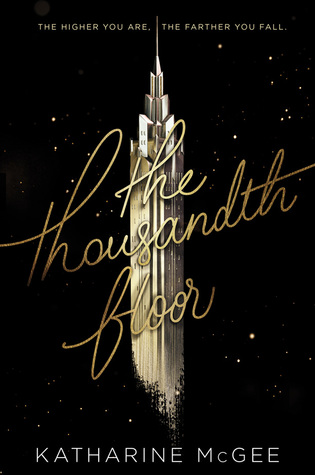 The Thousandth Floor by Katherine McGee
I actually received this book as a birthday gift from one of my really good friends back in October. Usually books that I am really interested in reading don't sit and get covered in dust on my bookshelf. But, I actually gave this book a go in November. It wasn't that it was bad. It was actually really good. However, I thought that a reading break was really important and decided to prioritize it, rather than the book. I plan to either re-pick it up or re-start the book during January and I cannot wait!
And that is it for my January TBR! It is definitely pretty hefty for such a busy month ahead, but it could be doable. A lot of the books on this list are re-reads (OBVIOUSLY) so I will breeze straight through them. Have you set a January TBR? Let me know what you plan to read in the comments! Also, be sure to like this post and follow this blog to stay up to date with all of my future posts.
Happy Reading,
Alaina