Hey everyone, and welcome back to my blog! For today's post, I wanted to talk about some of my favorite books from 2017! Everyone seems to post about their favorite, and least favorite books around this time of year, so why not join in on the fun. I've read my fair share of great books throughout 2017 and I am so excited to share them with all of you today! Let's get started!
#10 – Vampire Academy by Richelle Mead
I've got to say, this book was filled with everything a vampire lover could ever want! Fierce females, hot men and oh boy, drama galore! I originally read this a few years ago and passionately hated it. To this day, I still believe that it was because I was in a huge reading slump. Oh, how stupid those things are. But I absolutely adored this book when I reread it this year and am happy to have it on my favorites list! Definitely let me know in the comments if the 4th and 5th book are worth reading, since those are the only ones in the series I have left.
Check out my review HERE!
---
#9 – Just Listen by Sarah Dessen
This was one of the most surprising books I picked up this year, and one of few contemporaries that made it on to this list. I had heard very mixed reviews about Sarah Dessen's novels prior to reading any of them. Some people hated them, while others absolutely loved them. Well, I absolutely loved Just Listen. It is such an inspiring novel and definitely worth the read. If you are a music lover, I would definitely recommend picking up this novel!
Check out my review HERE!
---
#8 – Six of Crows by Leigh Bardugo
I also ran into the same situation with Six of Crows as I did with Vampire Academy. I just couldn't find myself enjoying it during my first read through, no matter how hard I tried. It just wasn't working for me. But, I really wanted to love this book, so I gave it another chance later in 2017. And let me just say, this book was AMAZING! Seriously, all of the characters and plot twists were written so well. If you are someone who likes a book with lots of violence and humor, Six of Crows is perfect for you! And if you have read it, let me know how good Crooked Kingdom was!
Check out my review HERE!
---
#7 – If There's No Tomorrow by Jennifer L. Armentrout
So, if you have read at least 5 posts on my blog, you probably already know that I am a huge fan of Jennifer L. Armentrout's books. I am constantly raving about her Lux series and have read in loved a bunch of her other novels. After reading The Problem With Forever, I was hooked on her contemporaries and made If There's No Tomorrow my most anticipated book of 2017. And it definitely didn't disappoint. This book was extremely relatable and made me both laugh and cry more than any other book. But I would highly recommend NOT reading this book if you hate ACOMAF, because you may start yelling at the book within 100 pages.
Check out my review HERE!
---
#6 – The Bone Season by Samantha Shannon
I really don't pick up adult books often. I swear, they intimidate me 10 times more than an 800 paged YA book. I always feel like they are going to be filled with words I don't understand and unreadable small font. But, The Bone Season is one of those adult books that are written as if it is a YA book. This book literally felt like it was a YA book with older characters. Everything about this book surprised me and I was so happy that I gave it a chance. But, the other books in the series are all over $20, even for a paperback, and I just don't have the money to buy them.  Definitely let me know if they are worth buying!
Check out my review HERE!
---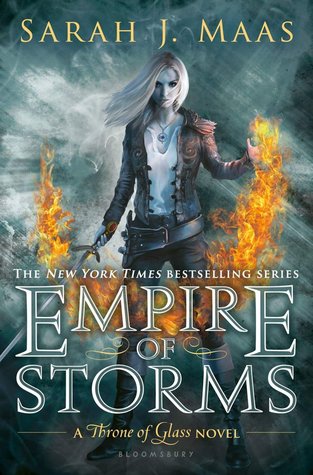 #5 – Empire of Storms by Sarah J. Maas
Okay, so this was actually the first book I read in 2017! It honestly feels like forever since I read it, and not as if it was almost a year ago. But I remember that this book was one of my favorites in the series. It was filled with sexy romance and violent fights that there was not one moment that I wasn't fully into this book. And that ending totally wrecked me. I don't think I have ever cried in a book as much as I cried in this one. And although I still have yet to read Tower of Dawn, I can't wait to see where Sarah J. Maas takes this series with Throne of Glass #7!
Check out my review HERE!
---
#4 – Gemina by Amie Kaufman and Jay Kristoff
Guys… this is seriously a must-read if you are a sci-fi lover! I remember loving Illuminae back in 2016, I think it might have even made it on to my favorites list. But, Gemina was even better than Iluminae! Now you may be thinking the same thing that I was, how could this possibly beat Illuminae?And truly, I still don't know. But it just did. I loved the characters, the totally tear-worthy plot and absolutely everything about this book. I am beyond excited for Obsidio to release in March and you better know that I will have my hands on that book on release day!
Since I never posted a review for this book, you can check out the Goodreads page HERE!
---
#3 – Lady Midnight by Cassandra Clare
Now, I've always been a fan of Cassandra Clare's books, but never a hardcore fan. I read and enjoyed her two previous series: The Mortal Instruments and The Infernal Devices, but I still have yet to read ALL of her companion novels. But, after loving Emma and Julian in City of Heavenly Fire, I just knew I was going to love Lady Midnight. And I was so right! I loved everything single thing about this book: the characters, the epic plot twists, and even the setting (oh how I wish I lived in sunny Los Angeles). You definitely need to read this book AFTER Cassandra Clare's previous two series, but trust me, it is so worth it!
Check out my review HERE!
---
#2 – A Court of Mist and Fury by Sarah J. Maas
Okay, I think everyone has heard about this book, whether or not they have started the series. But I have to say, ACOMAF is topping the list of having the MOST mixed reviews. There are hardcore fans who absolutely loved this book to pieces and there are people who complain about how problematic it is. As a huge Sarah J. Maas fan, I fell head over heels for this novel. There was not one moment where I found myself tipping towards a 4.5 rating. It was written so well with TONS of romance and violence to satisfy me.
Check out my review HERE!
---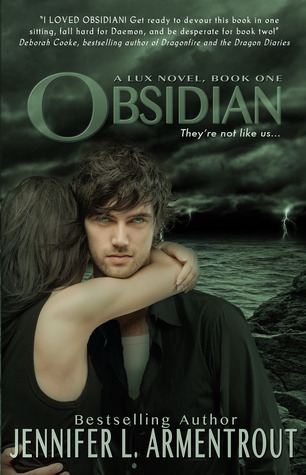 #1 – Obsidian by Jennifer L. Armentrout
YOU GUYS, if you expected anything else from this post, it is clear that you have never read my blog before. I am a die-hard fan of Jennifer L. Armentrout's LUX series and have a habit of constantly re-reading them, especially Obsidian. I could've actually also put some of the other books in the series on this list, but I thought that one would be enough to include. Overall, I am pretty sure that I read this book 3 times throughout 2017, and somehow it is still my favorite book EVER! Maybe something else will beat it in 2018.
Check out my review HERE!
---
And that is all for today's post! Have you read any of the books listed above? Definitely leave your thoughts in the comments section! Don't forget to like, comment and follow my blog to stay up to date with all of my future posts!
Happy Reading,
Alaina