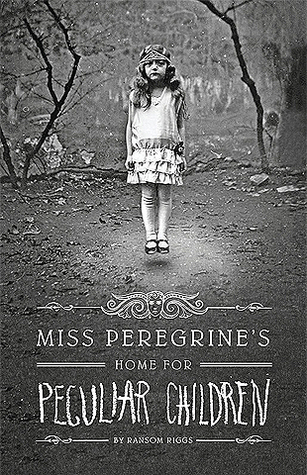 Information:
Title/Author: Miss Peregrine's Home For Peculiar Children by Ransom Riggs
Series: Miss Peregrine's Peculiar Children (#1)
Release Date: June 7, 2011
Publisher: Quirk
Genre: YA, Fantasy, Mystery
Rating: ✭✭✭✩✩
A mysterious island. An abandoned orphanage. A strange collection of curious photographs.

A horrific family tragedy sets sixteen-year-old Jacob journeying to a remote island off the coast of Wales, where he discovers the crumbling ruins of Miss Peregrine's Home for Peculiar Children. As Jacob explores its abandoned bedrooms and hallways, it becomes clear that the children were more than just peculiar. They may have been dangerous. They may have been quarantined on a deserted island for good reason. And somehow—impossible though it seems—they may still be alive.

A spine-tingling fantasy illustrated with haunting vintage photography, Miss Peregrine's Home for Peculiar Children will delight adults, teens, and anyone who relishes an adventure in the shadows.
Continuing my month of mysteries and thrillers, I decided to finally pick up Miss Peregrine's Home For Peculiar Children by Ransom Riggs. This book has been hyped by so many members of the book community and I am so happy that I gave it a try. Although it wasn't my ideal read, I thought that it was a pretty good book and I cannot wait to see where Ransom Riggs takes the rest of the series!
What I liked…

Let's start with the best part about this book: the pictures. It is obvious that the offer put a lot of time and effort into researching and finding old pictures that fit into the peculiar vibe of the novel. For the most part, there was always something odd about them, whether that was because a little girl was lifting a boulder or someone was levitating. They were always so much fun to look at and made the book fly by so much faster!
I also really enjoyed the time travelling aspect of this novel. We don't really see time travelling anymore in YA, so it was nice to read about it. I loved how the author used "loops" as a way of travelling back and forth to different days.
Ransom Riggs has officially created one of the MOST unique casts of characters I have ever read about! First of all, we have Miss Peregrine. She  is the headmistress of the peculiar children safe home and has the ability to change into a Peregrine Falcon. Bronwyn, a young girl with adorable curls, is able to lift extremely heavy objects. Olive, the star of the cover of this novel, has the ability to levitate. Millard has the ability to be invisible. Emma, one of the main characters of the novel, has the ability to manipulate fire. And finally, Jacob, our protagonist. I am still VERY confused as to what his peculiarity is… but he has one that is probably defined in later novels. There are many other peculiar characters, but these few play major roles in the novel.
What I didn't like…
My biggest dislike of this novel didn't have to do with the actual story, but with the cover. I sadly had to deal with a movie cover of this book, which completely messed me up. Somehow, the movie messed up some of the characters' abilities. On the cover, it pictures Emma as having the ability to levitate, and Olive has the ability to manipulate fire. Which, for anyone who has read the book or read my "what I liked" section of this post. Other than that, I believe that they casted the rest of the cast great, especially Jacob.
I also found the book to be quite boring at times. A lot of the explanations seemed to last FOREVER! Although this was one of the few books that I could sit down and read 50 pages straight, I found that sometimes I got bored of the non-dialogue scenes.
Favorite quotes…
"I used to dream about escaping my ordinary life, but my life was never ordinary. I had simply failed to notice how extraordinary it was. Likewise, I never imagined that home might be something I would miss."
"To have endured horrors, to have seen the worst of humanity and have your life made unrecognizable by it, to come out of all that honorable and brave— that was magical."
Overall…

I ended up giving this book 3.5 out of 5 stars. It wasn't amazing, but it was also better than a 3 star book. Most would then say that it is very good, but I can only define this book as unique. I don't expect to ever read a similar book in my life.
If you are looking for a good book to add to your haunting October TBR, I would definitely recommend this one. It's a hit or miss for most people, but I think that everyone should give it a try.
Amazon | Chapters/Indigo | Barnes & Noble | Book Depository
Happy Reading,
Alaina