September, September, September. I am pretty sure that you were my worst reading month. You loaded me with too much homework that I literally couldn't read more than 20 pages a day.
So, hey everyone! Today I am going to be sharing my September Wrap-Up with all of you! If there is anything to describe this past reading month, it would be HECTIC. I started school and was loaded with homework. So really, there wasn't much reading time for me. But, nonetheless, I was able to squeeze in 2 books that I am excited to share with you all!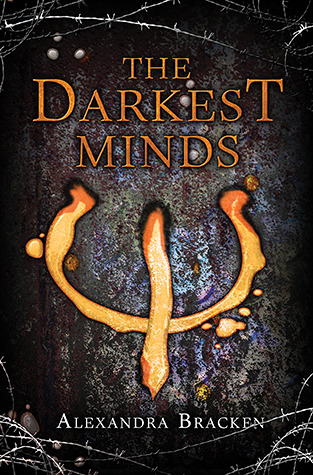 The Darkest Minds by Alexandra Bracken:
When Ruby woke up on her tenth birthday, something about her had changed. Something frightening enough to make her parents lock her in the garage and call the police. Something that got her sent to Thurmond, a brutal government "rehabilitation camp." She might have survived the mysterious disease that had killed most of America's children, but she and the others emerged with something far worse: frightening abilities they could not control.

Now sixteen, Ruby is one of the dangerous ones. When the truth comes out, Ruby barely escapes Thurmond with her life. She is on the run, desperate to find the only safe haven left for kids like her—East River. She joins a group of kids who have escaped their own camp. Liam, their brave leader, is falling hard for Ruby. But no matter how much she aches for him, Ruby can't risk getting close. Not after what happened to her parents. When they arrive at East River, nothing is as it seems, least of all its mysterious leader. But there are other forces at work, people who will stop at nothing to use Ruby in their fight against the government. Ruby will be faced with a terrible choice, one that may mean giving up her only chance at having a life worth living.
Check out my review HERE!
---
Unnatural Deeds by Cyn Balog:
Some secrets are worth killing to protect.

Victoria Zell doesn't fit in, not that she cares what anyone thinks. She and her homeschooled boyfriend, Andrew, are inseparable. All they need is each other. That is, until Zachary Zimmerman joins her homeroom. Within an hour of meeting, he convinces good-girl Vic to cut class. And she can't get enough of that rush.

Despite Vic's loyalty to Andrew, she finds her life slowly entwining with Z's. Soon she's lying to everyone she knows and breaking all the rules to be with Z. She can't get enough of him—or unraveling the stories of the family he's determined to keep hidden.

Except Z's not the only one with a past. Straight-laced Vic is hiding her own secrets…secrets that are about to destroy everything in her path.
Check out my review HERE!
---
I am also currently reading an ARC of Achilles by Greg Boose. This book released on September 26, 2017, and I would definitely recommend it to any sci-fi lovers. I currently have around 80 pages left of it, ad I am hoping to finish it later tonight!
That's about it for today's post! I hope you enjoyed it. Definitely let me know which books you read in September. Hopefully all of you had better reading months than I did! Don't forget to like and follow to stay up to date with all of my posts!
Happy Reading,
Alaina