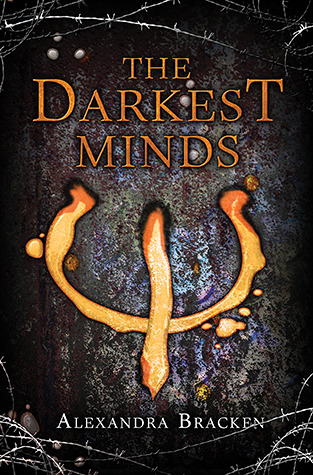 Information:
Title/Author: The Darkest Minds by Alexandra Bracken
Series: The Darkest Minds #1
Release Date: December 18, 2012
Publisher: Disney Hyperion
Genre: YA, Dystopian
Rating: ✭✭✭✭✩
When Ruby woke up on her tenth birthday, something about her had changed. Something frightening enough to make her parents lock her in the garage and call the police. Something that got her sent to Thurmond, a brutal government "rehabilitation camp." She might have survived the mysterious disease that had killed most of America's children, but she and the others emerged with something far worse: frightening abilities they could not control.

Now sixteen, Ruby is one of the dangerous ones. When the truth comes out, Ruby barely escapes Thurmond with her life. She is on the run, desperate to find the only safe haven left for kids like her—East River. She joins a group of kids who have escaped their own camp. Liam, their brave leader, is falling hard for Ruby. But no matter how much she aches for him, Ruby can't risk getting close. Not after what happened to her parents. When they arrive at East River, nothing is as it seems, least of all its mysterious leader. But there are other forces at work, people who will stop at nothing to use Ruby in their fight against the government. Ruby will be faced with a terrible choice, one that may mean giving up her only chance at having a life worth living.
This was my first book by Alexandra Bracken, and WOW. I never really know what to expect going into a new author's books, but Alexandra Bracken's writing and characters absolutely blew me away. It's literally been less than an hour since I finished this book, and I am still feeling the effects that Bracken's writing has. It was THAT good.
I've been pushing this book further back on my TBR for years now. I haven't been a fan of dystopian books for a while now, so anything that falls into that genre, falls farther down my TBR. But, I was able to score this book for a super good price and thought, "why not give this a go." There is no way that I could regret it.
What I liked…
When I first started this book, I really didn't know what was happening. I knew that there were a group of kids who were running from the government, but that wasn't happening. But, the first 50-60 pages of this book are kind of like a long prologue. You get a lot of necessary information about past history and characters that you will need to keep in mind for the ending, but it is kind of like an introduction to Alex Bracken's dystopian world. I found that the good action started around page 60, when the whole gang showed up.
The characters in this book are as lovable as the ones in The Raven Cycle. Maybe even more! If you didn't already know, every kid in the United States of America has been hit by a deadly virus and are put into different camps and categorized by colour based on their abilities. This was the government's way of keeping the rest of the country's population safe from the new generation of "Darkest Minds." Most would say that these children are creepy, but I think that they are hecka badass!
Basically, each colour represents their powers. The greens are intelligent. The blues are telekinetic, which means that they can move object with their minds. The yellows are electrokinetic, which means that they can basically control electricity with their minds. The reds can manipulate fire. And lastly, the oranges are telepathic, which means that they can jump into peoples minds and control them. Although we don't meet any reds in this story, each colour is super cool and interesting!
The character development in our main character, Ruby, was superior! We first saw her when she was escaping Thurmond, one of the worst camps in America. She was definitely a little bit frightened back then. But really, who wouldn't be. When you have a deadly power that you do not know how to control, I feel like anyone would be terrified.  But by the end of the novel, although Ruby wasn't at her strongest potential, she was still one of the strongest characters in this story!
I also really loved the rest of the characters! Liam, a blue (I think), had such a determined mind and never let anything get in the way of what he set forth to do. Charles "Chubs," another blue, was the intelligent healer of the group. Lastly, Suzume "Zu," a yellow, was the youngest main character! She never spoke in the novel, but she had the girliest personality EVER!
I was also super happy to see a romantic relationship in this novel. Because, you know me, I'm a total romance lover! I feel like so many books have been lacking romance recently, but this one definitely satisfied my WANT for romance. I was a little iffy on Ruby and Liam's romance at first, but I ended up really loving it!
The apocalyptic vibe of this novel was very similar to that of The 5th Wave by Rick Yancey. Although it isn't an "end of the world" apocalypse, it is an "end of children" apocalypse.
What I didn't like…
One of the biggest things that I hated about this book was the mind manipulating romance between Clancy and Ruby. It was obvious that Ruby and Liam had feelings for each other. But Clancy just thought it was right to get into the way of things and try to make Ruby "love" him.
THAT ENDING. Like come on, why does Alex Bracken need to play a Marie Lu on us?! This was like Champion all over again.
Favorite quotes…
"Let's carpe the hell out of this diem."
"Dreaming led to disappointment, and disappointment to a kind of depressed funk that wasn't easy to shake. Better to stay in the gray than get eaten by the dark."
Overall…
I ended up giving this book 4.5 out of 5 stars. Not that it was bad or anything, there was just a little bit of room for improvement. The mind manipulating romance was really the only thing that bumped it down from 5 stars. That was just wrong on so many levels. But other than that I really enjoyed this book and cannot wait to dive into Never Fade!
Amazon | Chapters/Indigo | Barnes & Noble | Book Depository
Happy Reading,
Alaina