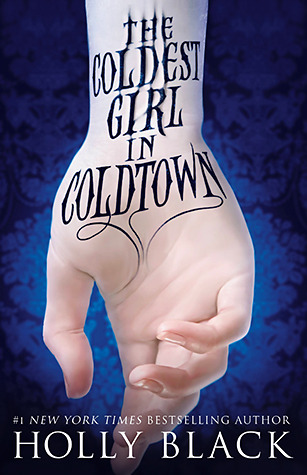 Information:
Title/Author: The Coldest Girl in Coldtown by Holly Black
Series: Standalone
Release Date: September 3, 2013
Publisher: Little, Brown Books for Young Readers
Genre: YA, Fantasy, Paranormal
Rating: ✭✭✭✩✩
Tana lives in a world where walled cities called Coldtowns exist. In them, quarantined monsters and humans mingle in a decadently bloody mix of predator and prey. The only problem is, once you pass through Coldtown's gates, you can never leave.

One morning, after a perfectly ordinary party, Tana wakes up surrounded by corpses. The only other survivors of this massacre are her exasperatingly endearing ex-boyfriend, infected and on the edge, and a mysterious boy burdened with a terrible secret. Shaken and determined, Tana enters a race against the clock to save the three of them the only way she knows how: by going straight to the wicked, opulent heart of Coldtown itself.
Most may be familiar with Holly Black's writing through her Magisterium series, co-written with Cassandra Clare. But, did you know that she also writes her own fantasy books? She hasn't been releasing too many books recently, but she wrote a popular vampire novel back in 2013, which I will be reviewing today! The Coldest Girl in Coldtown is a modern take on vampires that is definitely worth checking out.
Vampires are one of the less popular parts of YA literature these days. In the past, we've had amazing novels including Twilight and Vampire Academy be published. But since then, we've had a lack of vampires in our new releases. I don't really know if it's just something that authors don't want to write about, or if readers are starting to want to see less vampires, but I still love to read about them. Anything paranormal really intrigues me! Although Holly Black's novel didn't satisfy my vampire craving, it was definitely nice to get back into the world of vampires!
What I enjoyed…
One of the biggest things that I enjoyed in the book was the world. Most vampire books that I have read in the past have featured vampires wandering around the earth. There were no secluded areas for them, unlike Holly Black's "Coldtowns." Coldtowns are basically little areas that are fenced off to hold vampires. Kind of like a city within another city. They are used sort of like peace barriers from humans and vampires.
I will say, I also really loved our main character, Tana.  She was bold, courageous and always willing to sacrifice herself instead of being a coward. I mean, she literally risked herself at least 3 times in this novel for an ex-boyfriend, a powerful man she hardly knew, and a bunch of vampire strangers. She did so much to save people, including herself! If she doesn't deserve a medal of bravery, I don't know who does.
Also, there was a super swoon-worthy vampire in this book! Although you probably won't enjoy the romance if you hate books with huge age-gaps, Gavriel is a hottie. A powerful hottie! Literally, even though he was (and still is) in Tana's debt, he is one of the most powerful vampires in Holly Black's novel! But seriously, I am writing this review and still thinking about him! HE LEAVES HIS MARK!
Also, there was a fair share of diversity in this book, which was different for a paranormal book. Obviously, it does take place in the present day, but usually we only see it in contemporaries. I actually only remember reading about a transgender, but if you found any other types of diversity, definitely shoot me a comment!
What I didn't like…
IT WAS SO FREAKING SLOW AT TIMES. Most of you may already know this, but this has been on my Goodreads "currently reading" shelf since January. I gave it a go back then, and ended up putting it down around page 25. I recently gave it a second try, and ended up finding the first two thirds of the novel "okay." There was nothing super unique that was catching my eye.
I didn't actually like Aidan, who was actually one of the main characters in the story. He played such a big role, but I never found myself liking his character. He was just boring, unlike Gavriel.
I also disliked that we didn't get a lot of past information about the characters. Of course, there were flashbacks every few chapters, but I was really waiting for a descriptive past. Without it, I found myself feeling very disconnected throughout the book.
Favorite quotes…
"Every hero is the villain of his own story."
Overall…
I ended up giving this book 3 out of 5 stars. Throughout the majority of the book, I thought that it was only going to get a 2.5 out of me. But, the ending definitely made up for it. If you are on the hunt for a vampire tale, definitely give Holly Black's The Coldest Girl in Coldtown a go. It has a lot of mixed reviews, but I have definitely seen a rise in positive ratings!
Amazon | Chapters/Indigo | Barnes & Noble | Book Depository
Happy Reading,
Alaina