Another month is over, and with that, we are coming closer to the year's end. 2017 is just flying by!
In July, I was able to read quite a few amazing novels! It definitely wasn't my best month, but it has felt so good to enjoy books. I found that a lot of times throughout the school year, I would try to read books as fast as possible. And now that I'm on summer break, I'm actually taking my time to read and enjoy each book. Overall, I managed to read 7 books! All of them were really good, so I am super excited to share them with you!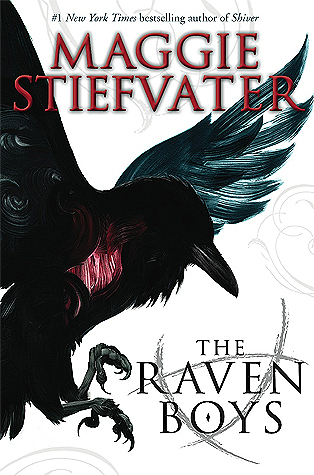 The Raven Boys by Maggie Stiefvater
---
It is freezing in the churchyard, even before the dead arrive.

Every year, Blue Sargent stands next to her clairvoyant mother as the soon-to-be dead walk past. Blue herself never sees them—not until this year, when a boy emerges from the dark and speaks directly to her.

His name is Gansey, and Blue soon discovers that he is a rich student at Aglionby, the local private school. Blue has a policy of staying away from Aglionby boys. Known as Raven Boys, they can only mean trouble.

But Blue is drawn to Gansey, in a way she can't entirely explain. He has it all—family money, good looks, devoted friends—but he's looking for much more than that. He is on a quest that has encompassed three other Raven Boys: Adam, the scholarship student who resents all the privilege around him; Ronan, the fierce soul who ranges from anger to despair; and Noah, the taciturn watcher of the four, who notices many things but says very little.

For as long as she can remember, Blue has been warned that she will cause her true love to die. She never thought this would be a problem. But now, as her life becomes caught up in the strange and sinister world of the Raven Boys, she's not so sure anymore.
---
Check out my review: HERE
The Dream Thieves by Maggie Stiefvater
---
If you could steal things from dreams, what would you take?

Ronan Lynch has secrets. Some he keeps from others. Some he keeps from himself.

One secret: Ronan can bring things out of his dreams.

And sometimes he's not the only one who wants those things.

Ronan is one of the raven boys – a group of friends, practically brothers, searching for a dead king named Glendower, who they think is hidden somewhere in the hills by their elite private school, Aglionby Academy. The path to Glendower has long lived as an undercurrent beneath town. But now, like Ronan's secrets, it is beginning to rise to the surface – changing everything in its wake.
---
Check out my review: HERE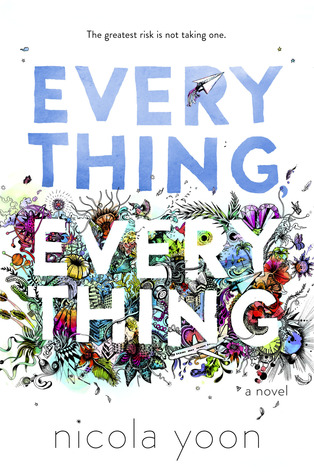 Everything, Everything by Nicola Yoon
---
My disease is as rare as it is famous. Basically, I'm allergic to the world. I don't leave my house, have not left my house in seventeen years. The only people I ever see are my mom and my nurse, Carla.

But then one day, a moving truck arrives next door. I look out my window, and I see him. He's tall, lean and wearing all black—black T-shirt, black jeans, black sneakers, and a black knit cap that covers his hair completely. He catches me looking and stares at me. I stare right back. His name is Olly.

Maybe we can't predict the future, but we can predict some things. For example, I am certainly going to fall in love with Olly. It's almost certainly going to be a disaster.
---
Check out my review: HERE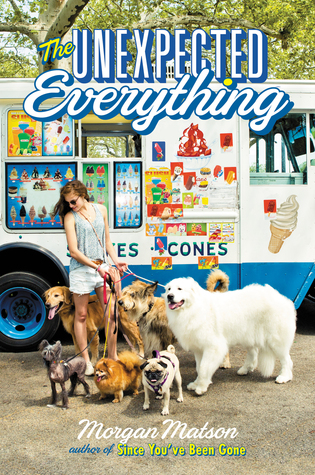 The Unexpected Everything by Morgan Matson
---
Andie had it all planned out. When you are a politician's daughter who's pretty much raised yourself, you learn everything can be planned or spun, or both. Especially your future. Important internship? Check. Amazing friends? Check. Guys? Check (as long as we're talking no more than three weeks).

But that was before the scandal. Before having to be in the same house with her dad. Before walking an insane number of dogs. That was before Clark and those few months that might change her whole life. Because here's the thing—if everything's planned out, you can never find the unexpected. And where's the fun in that?
---
Check out my review: HERE
A Great and Terrible Beauty by Libba Bray
---
A Victorian boarding school story, a Gothic mansion mystery, a gossipy romp about a clique of girlfriends, and a dark other-worldly fantasy—jumble them all together and you have this complicated and unusual first novel.

Sixteen-year-old Gemma has had an unconventional upbringing in India, until the day she foresees her mother's death in a black, swirling vision that turns out to be true. Sent back to England, she is enrolled at Spence, a girls' academy with a mysterious burned-out East Wing. There Gemma is snubbed by powerful Felicity, beautiful Pippa, and even her own dumpy roommate Ann, until she blackmails herself and Ann into the treacherous clique. Gemma is distressed to find that she has been followed from India by Kartik, a beautiful young man who warns her to fight off the visions. Nevertheless, they continue, and one night she is led by a child-spirit to find a diary that reveals the secrets of a mystical Order. The clique soon finds a way to accompany Gemma to the other-world realms of her visions "for a bit of fun" and to taste the power they will never have as Victorian wives, but they discover that the delights of the realms are overwhelmed by a menace they cannot control. Gemma is left with the knowledge that her role as the link between worlds leaves her with a mission to seek out the "others" and rebuild the Order.
---
Check out my review: HERE
Rebel Angels by Libba Bray
---
Ah, Christmas! Gemma Doyle is looking forward to a holiday from Spence Academy, spending time with her friends in the city, attending ritzy balls, and on a somber note, tending to her ailing father. As she prepares to ring in the New Year, 1896, a handsome young man, Lord Denby, has set his sights on Gemma, or so it seems. Yet amidst the distractions of London, Gemma's visions intensify–visions of three girls dressed in white, to whom something horrific has happened, something only the realms can explain…

The lure is strong, and before long, Gemma, Felicity, and Ann are turning flowers into butterflies in the enchanted world of the realms that Gemma alone can bring them to. To the girls' great joy, their beloved Pippa is there as well, eager to complete their circle of friendship.

But all is not well in the realms–or out. The mysterious Kartik has reappeared, telling Gemma she must find the Temple and bind the magic, else great disaster will befall her. Gemma's willing to do his intrusive bidding, despite the dangers it brings, for it means she will meet up with her mother's greatest friend–and now her foe, Circe. Until Circe is destroyed, Gemma cannot live out her destiny. But finding Circe proves a most perilous task.
---
Check out my review: HERE
We Own The Sky by Sara Crawford
---
16-year-old musician, Sylvia Baker, has always been different. She's the only one who can see the "flickering people." When she sees a gorgeous flickering man named Vincent, she learns that they are Muses.

With his help, she finds herself creating exquisite songs that she loves almost as much as songs by her favorite bands–Radiohead, M83, and The Black Keys–and she is falling in love in a way she never knew was possible. While trying to maintain her newfound friendships and her band, she falls deeper into the world of the Muses.

When the original Greek Muses wake to find a world in which the internet has given everyone the tools to be an artist, a battle between traditional and new methods of creation ensues. As Sylvia discovers how she is connected to the world of the Muses, she learns that this war may put her music, her love, her very life at stake.
---
As for the haul portion of this post, the only book I hauled this month was We Own The Sky by Sara Crawford. The author kindly sent me a copy to read and review. And now you might be wondering, "if you read it already, where's the review?" Well, the book isn't actually released yet. We Own The Sky releases on August 15, 2017 and I highly recommend you order a copy. You can order it HERE.
And that's it for today! Did you make a July Wrap-Up/Haul post? Comment the link down below and I will definitely check it out! Don't forget to like, share and follow to stay up to date with all of my future posts!
Happy Reading,
Alaina ❤