Hey Book Nerds! I've been wanting to start some discussions on my blog, and now that I have gained quite a following, I feel like the time is fitting. So, I am going to be starting a segment called "Let's Talk," where I will talk about my opinions on certain topics. For this week, I am going to start this series by talking about ways to organize your bookshelf. I feel like there are a million different ways to organize books, but today I wanted to talk about a few of my favorites!
Rainbow:
Who doesn't love a rainbow bookshelf? If there is anything that can bring a smile on to a book lover's face, it's a bookshelf organized by colour. It's a super simple and easy way to bring some colour into a dark area. And even, rainbow bookshelves have been one of the many Instagram crazes over the past few months. There is no way your suggested DOES NOT pop up with a rainbow bookshelf. They do this because they are pretty and pleasing to the eyes. I, personally adore these types of shelves. I love how fun and creative they are. But sadly, they just never work for my shelf. I own too many multi-coloured spines and hardly any yellow books. My only downside about these shelves is that it is extremely difficult to get a shelf with identical spine heights. For the most part, the heights will vary.
Bookshelf Credits: Oh, The Book Feels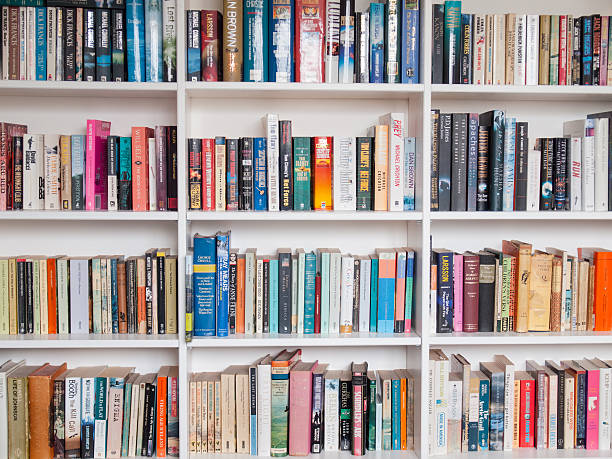 Alphabetical:
The inner librarian in everyone loves an alphabetized bookshelf. It feels so great to know where every book is by just knowing the author's name. This is probably the most popular way to organize bookshelves and is used by big-name bookstores and libraries. And it is also the easiest way to organize! All you have to do is put your books on your bookshelf by author last name. Not too hard, right? But this is probably the organization method that I have the MOST problems with. Alike the rainbow shelves, you are most likely going to have varied-height spines. Varied-height spines is one of my biggest pet-peeves and I absolutely hate them. You are also most likely to have random splashes of colour in your shelf. So, if you read mostly contemporaries, you might have a random black book somewhere. And basically the other way around for fantasy books. But, you will also have each author's books together which is really nice.
Bookshelf Credits: iStock
Genre:
This is actually one of my personal favorite methods to organize my books. It keeps both similar books and series together. Basically, if you know what genre you're looking for, you'll know where to find your book! I like to organize in this method because I find that it is the most pleasing to the eye. In your fantasy section, the colours will be dark and muted. Whereas the contemporary section will feature bright whites and pastel shades. It isn't often that the colours will actually mix on your shelf. But, I really like this one because I love separating my genres! There's not much separation on my shelf, but I do separate fantasy and contemporary.
Those were just a few of my favorite ways to organize a bookshelf. Do you organize yours differently? Leave a comment below letting me know how you organize! Don't forget to like, share and follow for more of my posts!
Happy Reading,
Alaina ❤