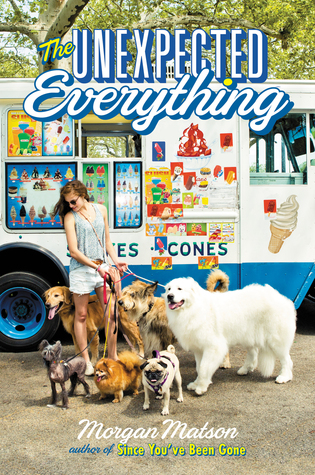 INFORMATION:
Title/Author: The Unexpected Everything by Morgan Matson
Series: Standalone
Release Date: May 3, 2016
Publisher: Simon & Schuster
Genre: YA, Contemporary, Romance
ISBN: 9781481404549
Andie had it all planned out. When you are a politician's daughter who's pretty much raised yourself, you learn everything can be planned or spun, or both. Especially your future. Important internship? Check. Amazing friends? Check. Guys? Check (as long as we're talking no more than three weeks).

But that was before the scandal. Before having to be in the same house with her dad. Before walking an insane number of dogs. That was before Clark and those few months that might change her whole life. Because here's the thing—if everything's planned out, you can never find the unexpected. And where's the fun in that?
The Unexpected Everything is Morgan Matson's fourth novel. I actually picked up her third novel, Since You've Been Gone, last summer and I absolutely loved it! It was a sweet and fun adventure that kept you on the tips of your toes. So, of course I had to buy another contemporary by her for this summer. I couldn't help myself when I saw this beautiful novel, signed and sitting in the bargain section of my bookstore. There was absolutely no way that I was leaving it there.
After finishing this book earlier this morning, I am happy to finally announce that am a Morgan Matson fan! For me, her books are super addicting and always contain the right amount of romance to keep a smile on my face. And I just know that I am going to be picking up one of her other books before the end of this summer!
What I Loved…
What was there not to love about this novel? Okay, well maybe if you decided to read this in the winter but, I couldn't really find anything that was bad about this novel. Summer is the season for contemporaries and this one is perfect!
Although I wasn't totally in love with the book a during the first chapter, I quickly started to fall in love with the characters, the plot and all of the amazing things featured in this novel! One of the many things that I loved about this novel was the concept of politics. Andie's father worked as a US Congressman, representing Connecticut. Most probably wouldn't be interested in this but, since I am Canadian, I am always fascinated by learning about how other countries.
The friendships in this novel were so fabulous! Toby, Bri, Andie, and Palmer were a perfect example of friendship! They had been friends ever since they were young and it was awesome to see them spending as much of their summer together as possible! And even when boyfriends and summer jobs got in the way, they still found a way to spend time together.
Talking about boyfriends, the romance in this novel was amazing! At the beginning, I was almost definite that Andie was going to make it through the novel single. But, I couldn't help but ship her and Clark together ever since the first time they met! Who didn't love Clark? He was a hot, nineteen-year-old author that was covered in muscles. Usually when you think of a book nerd, they don't have abs because they spend all of their time reading. But somehow C. B. McAllister, the bestselling author of A Murder of Crows was a super hottie!
I also really loved the cover! Both the hardcover (shown above) and the paperback covers feature Andie and a whole bunch of dogs. I actually really love how much of the story is in the cover, itself. Andie ended up walking dogs during her summer break and the cover pictures her job perfectly! Morgan Matson constantly wrote about how many dogs were being walked at a time and the six dogs on the hardcover showed the emphasis as good as it could possibly be shown!
Compared to the only other Matson book I have read, The Unexpected Everything definitely felt more mature. It featured parties, drinking and sexual scenes. This might not be everyone's ideal YA summer contemporary but, I think it made the book a bit more fun. And even, this book did feature an older male character so…. obviously Matson had to give us something sexy!
Favorite quotes…
"I could do this. If whole galaxies could change, so could I."
"It's always a risk. Wherever there is great emotion. because there is power in that. And few people handle power well."
"Sometimes we get a little bit of a facade. We think we have people. Family, friends… but in the end, it's just you and the darkness. Everyone leaves eventually, my young friend. It's better, really, to learn early. This way, you can save yourself some disappointment."
Overall…
This was a sit-by-the-pool-with-an-ice-cream-in-hand type of read! Definitely recommended for dog lovers, romance lovers and summer contemporary lovers! If you have been on the hunt for a good summer contemporary, definitely pick up this one! Matson works magic through Andie's summer adventures and you will wish that you were in her friend group, joining in on all of the fun!
I couldn't help but give this book 4.5/5 stars! It was such an amazing novel and I really enjoyed it. But, now I am really craving another Morgan Matson contemporary. Sadly, I don't have any with me, but I definitely hope to pick up another by the end of the summer.
Amazon  |  Chapters  |  Barnes & Noble  |  Book Depository
Happy Reading,
Alaina