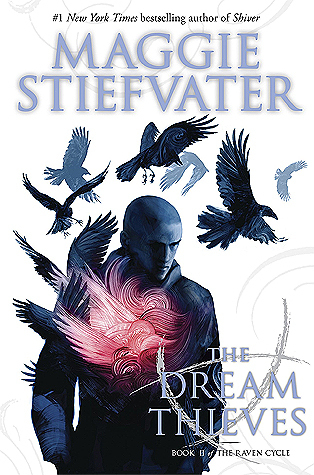 INFORMATION:
Title/Author: The Dream Thieves by Maggie Stiefvater
Series: The Raven Cycle (#2)
Publisher: Scholastic Press
Release Date: September 17, 2013
Genre: YA, Fantasy
ISBN: 9780545424943
SYNOPSIS:
Now that the ley lines around Cabeswater have been woken, nothing for Ronan, Gansey, Blue, and Adam will be the same. Ronan, for one, is falling more and more deeply into his dreams, and his dreams are intruding more and more into waking life. Meanwhile, some very sinister people are looking for some of the same pieces of the Cabeswater puzzle that Gansey is after…
MY THOUGHTS:
I wouldn't say that I totally loved this book, but it was definitely better than The Raven Boys. I love a lot of parts of these books but I have found that Maggie's writing is a bit harder than most to get into. But, I was still able to enjoy and breeze through this novel recently and I am really excited to review this!
I found that this book was more centered around Ronan. Although every other character had some sort of side conflict, Ronan's problems were a huge focus of this novel. I was kind of curious if the title "The Dream Thieves" had anything to do with the actual story line, and it does! I love how Maggie bases her titles off of actual events/people in her novels. This one just so happens to be based off of Ronan's ability to steal things from his dreams.
I loved the idea of dream thieving. It was a concept I had never read about before and I ended up really enjoying it. After the last sentence of The Raven Boys, I was really confused. I continuously wondered what "I took Chainsaw out of my dreams" meant. But after reading this, I fully understand that he LITERALLY took her out of his dreams. At first it was really only small objects, animals, etc. But by the end of the story, he was able to bring out anything.
I also really liked that we got to meet a few new characters in this novel. The biggest being both Joseph Kavinsky and The Gray Man. I actually had no clue what The Gray Man's role in this novel was but I am definitely excited to see him in book 3! On the other hand, I will say that I really loved Kavinsky's character. He was, of course, a trashy bad-boy with quite the mouth on him. But I thought it was so cool that Maggie added another character alike Ronan. But, our evil dream thief's life ended before the novel even finished. It was really weird for me to read this novel because I was actually reading it during the fourth of July, also known as Kavinsky's death date.
All of the characters really had a chance to evolve in this novel. The maturity level rised throughout this novel and I found that Gansey especially was no longer alike the President Cell-Phone we met earlier in this series. All of the characters started taking Glendower and the Ley Line situation a bit more seriously. With Ronan being able to steal things from his dreams, Adam controlling the Ley Line, I really don't know what to expect with Blue and Gansey!
But, I was over the moon that we finally got a glimpse of Gansey and Blue's love situation. It was obvious ever since the beginning of The Raven Boys that something was deemed to happen between them. Although it did seem like Blue was going to go with Adam for a while, things changed. I have a feeling that in Blue Lily, Lily Blue the two of them are going to hook up. And although I don't believe that Blue will have the temptation to kiss Gansey, it's hard to predict Maggie's writing.
Although this book definitely improved from The Raven Boys, I can only give it 4/5 stars. I am really hoping that Blue Lily, Lily Blue is even better than this one. Even though these aren't the most enjoyable books for me, I definitely plan on finishing the series!
THAT'S IT FOR TODAY! I hope you enjoyed this review! Don't forget to comment, like and follow for more posts!
Happy Reading!
~Alaina