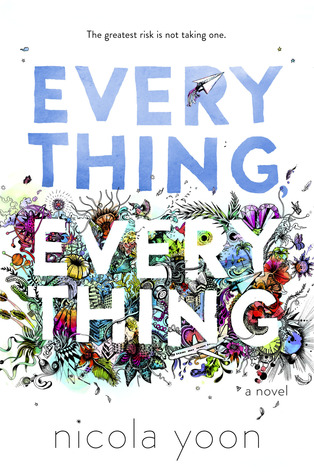 INFORMATION:
Title/Author: Everything, Everything by Nicola Yoon
Series: Standalone
Publisher: Delacorte Books for Young Readers
Release Date: September 1, 2015
Genre: YA, Contemporary, Romance
ISBN: 9780553496642
SYNOPSIS:
My disease is as rare as it is famous. Basically, I'm allergic to the world. I don't leave my house, have not left my house in seventeen years. The only people I ever see are my mom and my nurse, Carla.

But then one day, a moving truck arrives next door. I look out my window, and I see him. He's tall, lean and wearing all black—black T-shirt, black jeans, black sneakers, and a black knit cap that covers his hair completely. He catches me looking and stares at me. I stare right back. His name is Olly.

Maybe we can't predict the future, but we can predict some things. For example, I am certainly going to fall in love with Olly. It's almost certainly going to be a disaster.
MY THOUGHTS:
I was actually surprised by how much I enjoyed this novel. I have heard people talking about it ever since it release, but the hype recently tripled with the release of the movie. And, I can't help but give a hyped book a go. Luckily, this both satisfied and left me content in the end.
One of the things I really loved about this novel was the format that it was written. I expected it to be like any other chapter book I've read. But, this one hardly has any chapters, and is instead filled with cute pictures, little text messages and emails. I will admit, Nicola's husband did an amazing job with some of the drawing in this book. They really captured everything that was happening.
The characters in this story caught my attention from the very beginning! They weren't overly annoying, overly happy characters, but they seemed to be characters that you would want to sit and have a conversation with. Maddy was such a simplistic character, compared to the others in the story. She was sick and quarantined in her house for LIFE. That was basically her story before Olly came along. but if there is any character that I am able to relate to, it's Maddy. She loves to read and blog, just like me. But, she also really wanted to see a Hawaiian State Fish. And, when I was about seven, I would literally run around, repeating humuhumunukunukuapua'a because it was the longest word I knew back then.
I found it super cool how Maddy was bi-racial. It's not everyday that you read a book with the focus on a character of multiple races. But, you know, I'm open to any book with any race of characters.
Our main hottie, Olly was the man that Maddy truly needed in her life. But, I still find it hilarious how his last name is "Bright," and he wears dark clothes. Throughout the novel, we got to Olly and his personal life from both Maddy's window and their back-to-back emails. He didn't live an easy, laidback life as it was obvious that he had an abusive father. But, he didn't let any of his personal life stop him from seeing and being with Maddy, which I loved.
We had so many other characters in this book, but I actually disliked most of them. I loved Carla because she was such a kind, loving nurse. I also really liked Kara, because although she was a "very" minor character in this story, she was one of the key people in Olly's life. I, along with most people who have read the novel don't really care for Maddy's mom. The end of the story revealed that she had been doing something unreasonable to keep her daughter safe FOR NO REASON. I just can't feel the need to like her anymore.
I loved the concept of this story because I had never read anything like it before. The idea that a young girl has a disease that makes her have to live her life in the filtered indoors is pretty unique. But, I did find the whole plot of the story slightly romanticized. Maddy always wanted to go outside, and explore the world. She wanted to see the ocean and finally dip her feet in salt water. But it wasn't until Olly moved next door that she truly had a need to go outdoors. It was as if love brought her out of her house instead of just defying her mother.
I will admit that I loved Maddy and Olly's relationship. It was almost as if they were meant to be together that moment that he left his email in his window. But these two were so cute together. From their first meeting in Maddy's sunroom, to their adventures in Hawaii, they were adorable.
One of my favorite scenes was the trip to Hawaii. I loved how brave Maddy was to leave the comfort of her house and travel the world. It was really interesting for me to read this part of the story because I've actually been to Hawaii. And Nicola Yoon explained Hawaii just as it actually looks in real life. Although I hated that the one black page in this novel happened during such a lovely scene, I knew it was coming.
Overall, I ended up giving this novel 4.5/5 stars. I ended up breezing straight through this and finishing it in less than a day! Highly recommend for anyone who loves a good contemporary!
THAT'S IT FOR TODAY! I hope you enjoyed my review! Don't forget to like, comment and follow for more posts!
Happy Reading!
~Alaina