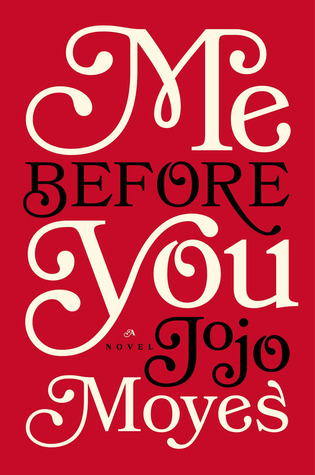 INFORMATION:
Title/Author: Me Before You by Jojo Moyes
Series: Me Before You (#1)
Publisher: Pamela Dorman Books/ Viking
Release Date: December 31, 2012
Genre: Adult, Contemporary, Romance
ISBN: 9780670026609
SYNOPISIS:
Louisa Clark is an ordinary young woman living an exceedingly ordinary life—steady boyfriend, close family—who has never been farther afield than their tiny village. She takes a badly needed job working for ex-Master of the Universe Will Traynor, who is wheelchair-bound after an accident. Will has always lived a huge life—big deals, extreme sports, worldwide travel—and now he's pretty sure he cannot live the way he is.

Will is acerbic, moody, bossy—but Lou refuses to treat him with kid gloves, and soon his happiness means more to her than she expected. When she learns that Will has shocking plans of his own, she sets out to show him that life is still worth living.

A love story for this generation, Me Before You brings to life two people who couldn't have less in common—a heartbreakingly romantic novel that asks, What do you do when making the person you love happy also means breaking your own heart?
MY THOUGHTS:
This book exceeded my expectations by a mile. I never really expect to love, or let alone enjoy an adult book. Seeing that I am still quite young, sometimes the language and vocabulary used can be a bit more difficult than what I usually read. But, I couldn't help but pick this one out of the stacks of books in a picked-over thrift shop. It was too much of a popular book to be sitting alone in there. I am super happy that I bought this, and although it took me a long time to build up the courage to read it, I can officially say that I am a Jojo Moyes fan!
Prior to reading the novel, I actually knew quite a bit of what occurs throughout the book, including the tragic ending. Both before and after the movie adaptation released, a lot of readers started picking up this book and reviewing it. Although I wasn't able to watch/read any of their reviews, I was able to watch the movie's trailer. And I fell in love.
The plot of this novel was quite different from anything I had ever read. I don't think I have ever read about anyone that is paralyzed, let alone a quadriplegic. Of course, I have read about disabled people, but not quite disabled into immobility. But I will say that reading about the pain and torture of having to have everything done for a quadriplegic sounds horrible. Absolutely horrible. I don't want to ever know how it feels like to have people stare at you while you are eating or while you roam a park in your wheelchair. But Will did.
Will… he was a complicated character. I couldn't figure him out for the first. He was moody, arrogant and someone who I definitely wouldn't want to spend time with. I think his darker moods were accentuated after is accident. But, by the time I hit the 100th page, he loosened up. He talked about his past adventures and his freedoms. He complained how he truly wasn't living as a quadriplegic. At first I didn't understand how he could actually WANT to have a medically assisted death. But then it hit me, he really wasn't living in his wheelchair. The only thing that he was capable of doing himself was steer his wheelchair. He couldn't fluff his pillows when uncomfortable, drink a margarita or even read a book without assistance. His past life was gone and he wasn't happy with his quadriplegic life. Although I don't think it is right to go through a medically assisted death, I think that once Will knew that that was what he wanted, there was no turning back. Not even when Louisa came into his life.
I absolutely adored Louisa's character. She was that foolish, awkward goofball that could brighten your day. Even just looking at her appearance could make a smile fill your whole face. I don't think I have ever seen anyone wear a super mismatched outfit on the streets. Especially not one that was fully bright colours. But that is Louisa for you. Lover of hot beverages, and fashion. I am overjoyed that Will came into Lou's life! He changed her and showed her the parts of her that stood out and defined her. He proved to her that working to earn money isn't the way to live life, adventuring is. Although only devastation ended in their relationship, I felt super happy throughout the story for Lou. Because a happy Louisa equaled a happy reader.
I will be totally honest, I knew what was going to happen in the end. I knew it before I even picked up the book. It was just obvious. Even the synopsis gives it away. And even though I knew it was coming, I sobbed my eyes out. I could feel a sob growing in my throat throughout the last 40 pages. But It wasn't until the last 3 chapters that I started to feel tears prickling my eyes. I tried to hold them in, but they ended up flowing down my cheeks, fast, while reading the epilogue.
One of my favorite scenes in this story was Lou's birthday! I absolutely loved that they included Will in the celebrations. I have a feeling that the birthday dinner would've been terribly boring if he wasn't there. But Lou's boyfriend definitely tried to ruin her big day. I understand that he was jealous that Lou was paying attention to Will and making sure that he was having a good time, but Patrick had no right to give them the stink eye. Like holy, give the man a break. But those bumble bee tights MADE MY DAY! I absolutely loved how considerate Will was to buy Lou something that she talked about loving years prior. If anything is a thoughtful gift it was that!
My least favorite thing about this novel was Lou's boyfriend, hands down. He was just… ick. He didn't even act like a boyfriend to her, more life a friend who always wanted to kiss her. But he didn't even take into mind how important Will was to her. After taking care of him for a few months, both Lou and Will started to have a connection between them. One that Lou never had with Patrick. Patrick also never took into consideration of what Lou liked to do. He spent so much of his time exercising and training instead of treating Lou to dinners and spending nights watching TV with her like any proper boyfriend should. #worstboyfriendever
Overall, I decided to give this book 4 stars. It was both high on the "brings me happiness" and the "tear-worthy" scale. But it also got its place on my list of books that affected me in a mental way. This book made me think about how precious life is. Although I wish I could bring myself to give this book 5 stars, I feel like 4 stars is very deserving.
THAT'S IT FOR TODAY! I hope you enjoyed this review! If you have read Me Before You, be sure to leave some of our thoughts down below. Don't forget to also like and follow for more blog posts!
Happy Reading!
~Alaina