Hey Book Lovers! I was recently tagged by Shanya and Tanya @ twinbookmarks.  This was actually my first book tag that I've ever been tagged to do so I'm super excited to do this. I mean, I love Disney and I love books so, where could this go wrong?
This tag was originally created by Mandy @ bookprincessreviews and, Zuky @ bookbum. Both of their blogs are amazing and you should all go check out their blogs! And be sure to go give them both a follow because they totally deserve it!
THE RULES:
Mention where you saw the tag and thank whoever tagged you.
Tag both Zuky and Mandy (their links are above). This will let them be able to easily check out your post!
Play a game of tag at the end.
Now, lets get straight into the tag! There are a total of 13 princesses, which means 13 books! Hope you enjoy!
SNOW WHITE: THIS BOOK (LIKE THE MOVIE ) STARTED IT ALL!
What is your favorite debut book from an author?
Mine is definitely An Ember In The Ashes by Sabaa Tahir! I usually am not a fan of debut novels. Most of the time, I find them either unoriginal, containing too many flaws or even just boring. But, then I remember that ALL authors' first novels are going to be their worst. It takes practice to make your writing better. And usually, I make bad decisions to introduce myself to new authors during book slumps. Dun dun dun. That truly is never a good idea. But if there is any debut novel that blew me away, it was definitely Elias and Laia's story within An Ember In The Ashes.
---
CINDERELLA: A DIAMOND IN THE ROUGH
Just Like Cinderella, You Either Didn't Expect Much Out of This Character in the Beginning But Turned Out to Be a Total Jem!
I am definitely going to have to go with Shanya and Tanya's answer for this question. Lysandra from the Throne of Glass was one of those characters who at first didn't seem like anything special. I thought of her as a prized, rich lady who was ruled by Arobynn Hamel. She didn't seem like anything too special when she was first introduced in Queen of Shadows but wow. She became something totally different in Empire of Storms. She was a strong-willed, independent woman who was super badass! Her shapeshifting abilities were super cool and I can't wait to see more of them in future books!
---
AURORA: SLEEPING BEAUTY
A Book That Makes You Sleepy or Just Could Not Hold Your Attention
Probably All Fall Down by Ally Carter. I am not a super big "mystery" reader. Of course I love a good fantasy or contemporary that has a mystery aspect to it. But, I am not a fan of novels that are JUST mystery. They just don't catch my attention. But I ended up picking this up at a book fair for a discount price and I thought I would give it a go. Although it wasn't terrible, it wasn't the type of book I would generally read. For the most part, I would count this book as "middle grade," rather than YA just by the writing style. That may have been why I didn't like it too much but this book would definitely be on my list of "books that could have put me to sleep."
---
ARIEL: UNDER THE SEA
A Book With a Water/Ocean Setting
So, the book I am picking doesn't FULLY take place under the sea but, water and the ocean are involved a lot in the novel. And, it instantly came to mind. So, I am going to be picking Lady Midnight by Cassandra Clare. With my guess, the whole Dark Artifices trilogy is going to take place around the ocean since both lady Midnight and Lord of Shadows's covers have an ocean background. The LA institute is also right across the street from the Pacific ocean. And HOLY DYNAMITE, I can only imagine how stellar that view would be.
---
BELLE: BEAUTY AND THE BOOKS
Name a Book With the Best Bookworm/Book Lover
I THINK YOU GUYS ALREADY KNOW WHAT I'M GOING TO SAY! Ha Ha. Definitely Katy Swartz from the Lux series by Jennifer L. Armentrout. She has a blog called "Katy's Krazy Obsession" where she post vlogs and bookish posts! Literally, just the idea of reading about a fellow book worm should have all you readers running to your bookstores to purchase Obsidian. Katy is also the BIGGEST nerd I have ever read about in a book. She is constantly quoting and talking about Harry Potter, Lord of The Rings, Star Wars and Paranormal books. You literally cannot go wrong with Katy's book suggestions too. She recommended Dee reads Sweet Evil by Wendy Higgins (and obviously I couldn't help but read it) and it was such an amazing novel!
---
JASMINE: THE THEIF AND THE PRINCESS
Name Book with an Unlikely Love Story (Either in Terms of Romance or a Book You Didn't Expect to Love So Much)
At the moment, I cannot think of any unlikely love stories, so I'm going to have to go with the second option. A book that I didn't expect to love as much as I did would have to be Cinder by Marissa Meyer. I knew beforehand that is was a really raved book, but I didn't really know what to expect from a book that is stated as a "sci-fi retelling of Cinderella." It sounded pretty crazy at first but, this book quickly became one of my favorites! I came to love the idea of cyborgs mixed with a well-known fairy tale. And although I am only 2 books into this 4 book series, I am so eager to get my hands on the last 2 books.
---
POCOHONTAS: THE REAL LIFE PRINCESS
Name a Book that is Based on a Real Life Person You Want to Read/Have Read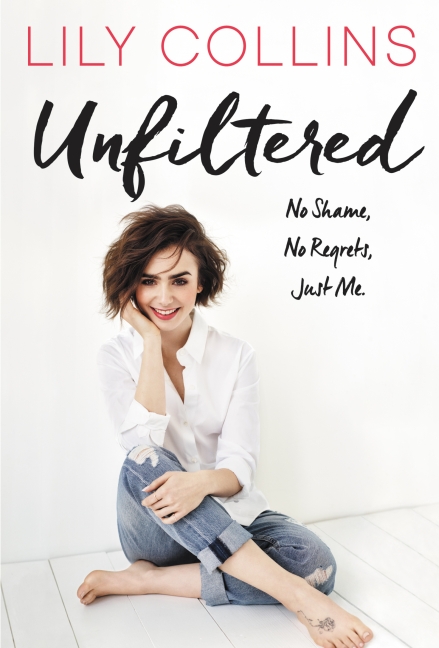 It is actually very rare that I reach for a non-fiction book. I just have a preference in fiction books. But, ever since Lily Collins released "Unfiltered: No Shame, No Regrets, Just Me" I've been doing grabby hands towards it whenever I go into stores. But, I struggle with a "spending" problem and I try to hold back whenever I see a book over $20. I have absolutely loved all of Lily's movies and she IS Clary! And I have to say, she played Clary so good. Although she didn't have the carrot red hair, she matched the dark mood of the movie. Hopefully I will get to this book sometime in the near future! Lily is such an inspiration to people of all ages, especially girls!
---
MULAN: THE PRINCESS THAT SAVED HER COUNTRY
Name the Fiercest Heroine You Know
Definitely Celaena Sardothien! (*cough cough Aelin Ashryver Galathynius*) Both "versions" of this character were phenomenal. Celaena was the character that all TOG readers ended up falling in love with. From her past, to her destiny, she quickly became one of the fiercest YA heroines. But when we got introduced to Aelin, I couldn't help but love her even more! Introducing fae to the series was brilliant. And even, we watched Aelin thrive, almost die and be the most most fierce fire breathing bitch-queen EVER!
---
TIANA: THE PRINCESS WITH THE COOLEST AND MOST DIVERSE CREW
Name a diverse book whether it is a diverse set of characters (like Tiana's group of Naveen, Louis, Ray, and more) or just diverse in general
I will be totally honest, but I don't really look for diversity in novels. I know that there are some people that hunt down and will only read books with diverse characters. But I just read for pure enjoyment. I've heard of so many popular books with lgbtq+ characters that I would love to read, but most of them are contemporaries. And I really dig a good fantasy. But a really good diverse read that I read a while back was Weird Girl And What's His Name by Meagan Brothers. I read this book almost a year ago so, it isn't too clear in my mind but, I remember that one of the main characters was bisexual. I think, at least. SO if you like that kind of stuff, definitely go check it out.
---
RAPUNZEL: LET DOWN YOUR LONGGGGGG HAIR
Name the Longest Book You've Ever Read
I think the longest book I have ever read is City of Heavenly Fire by Cassandra Clare. But I could be very wrong. This beautiful masterpiece rings in at a grand total of 725 pages of amazing-ness! And holy, this has got to be one of my favorite series enders EVER! It was so good and I could probably go for another reread soon. Some other long books that I have read include: Empire of Storms by Sarah J. Maas, Lady Midnight by Cassandra Clare, Breaking Dawn by Stephenie Meyer and Gemina by Amie Kaufman and Jay Kristoff!
---
MERIDA: I DETERMINE MY OWN FATE
A Book Where There is No Love Story/Interest or Isn't Needed
I am a lover of romance in novels so I don't really read anything that doesn't have it in it. But sometimes I do end up coincidentally picking up a fantasy that has none whatsoever. And I think I am going to have to give this question to Harry Potter and The Philosopher's Stone by J. K. Rowling. I really don't remember there being ANY romance in this book, aside from my little ships. Usually middle grade books don't have a lot of romance in them since they are directed to a younger audience. An audience that makes lemon pucker faces they see/read kissing. So if you are looking for a non-romantic novel, I really suggest reading a middle grade novel. I have also been recommended This Savage Song.
---
ANNA/ELSA: FROZEN HEARTS
A Book in a Winter/Cold Setting
OPAL BY JENNIFER L. ARMENTROUT!! A.K.A one of my favorite books ever! I am pretty sure that this book takes place fully during winter, but I could be wrong since it isn't specified. But since they're in West Virginia, their winter is a bit longer than other places. My guess is that it takes place between January and March. But literally the beginning two chapters of this novel were WINTER GOALS. It was so funny watching Kat experience snow for the first time. I live in a climate where 2/3 of the year is winter, so I found it so funny that the would close down highways during blizzards. We hardly ever have school, or road closures, unless it is horrible. Overall, reading about an American winter is definitely an experience that I will laugh off for a while.
---
MOANA: HOW FAR I'LL GO
A Character That Goes on a Journey
I'm going to go with Feyre Archeron from A Court of Thorns And Roses. I don't have any say for her adventures in both ACOMAF and ACOWAR since I have yet to read those but, Feyre definitely went on an adventure in ACOTAR. She went all the way from the mortal lands to the faerie realms in a matter of chapters! And holy, if any retelling really followed its fairy tale's storyline, it was this one! In Beauty and the Beast, Belle tries to save her father from "The Beast" and ends up having to live her life in his castle. In ACOTAR, Feyre accidentally kills a fae and is taken to the faerie realms to live out the rest of her life. SO, definitely an adventure in this book!
---
MY NOMINATIONS!
I nominate the following blogs to do this tag:
Emily @ Who Gave The Write
Shoshi @ Shoshi Reads
Tasya @ The Literary Huntress
Debbie @ My Eclectic Reads
Samantha @ Simply Samantha B.
Breeny @ Breeny's Books
---
THAT'S IT FOR TODAY! I hope you enjoyed today's tag! I haven't done a tag in a long time so it was super fun. Don't forget to like, comment and follow for more posts!
Happy Reading!
~Alaina