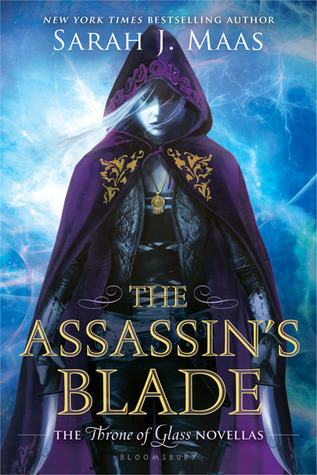 INFORMATION:
Title/Author: The Assassin's Blade by Sarah J. Maas
Series: Throne of Glass (0.1 – 0.5)
Publisher: Bloomsbury USA
Release Date: March 4, 2014
Genre: Fantasy, Romance, Young Adult
ISBN: 9781408852590
SYNOPSIS:
Celaena Sardothien is Adarlan's most feared assassin. As part of the Assassin's Guild, her allegiance is to her master, Arobynn Hamel, yet Celaena listens to no one and trusts only her fellow killer-for-hire, Sam. In these action-packed novellas – together in one edition for the first time – Celaena embarks on five daring missions. They take her from remote islands to hostile deserts, where she fights to liberate slaves and seeks to avenge the tyrannous. But she is acting against Arobynn's orders and could suffer an unimaginable punishment for such treachery. Will Celaena ever be truly free? Explore the dark underworld of this kick-ass heroine to find out.
MY THOUGHTS:
I was super hyped to dive into this book once I found out that it was a bunch of novellas that took place before Throne of Glass. Like who doesn't want to read about the mysterious Sam Cortland. Sign me up please! Fortunately, my hyper book-nerd brain indulged in each and every novella in this book and LOVED IT!
I loved that we finally got to learn about Celaena's past since it wasn't really ever explained in the novel. We always got to see young Aelin prior and during the Galathynius house fire. (I think it was a fire at least. Whoops.) We also got to see her up until the moment she was collected from a river bank by Arobynn. But throughout the series, we never learned about Sam, or her time in the Assassin's Guild as a whole.
I really enjoyed this collection of novellas! They were all pretty epic and caught my attention FULLY! With this review, I thought I'd give a review of every novella and then my thoughts on the whole book in the end. So here we go:
The Assassin and the Pirate Lord (5 stars)
This novella wasn't my favorite, but it was a fantastic opening novella to the series. I remembered reading about the Rolf, the Pirate Lord, back in Empire of Storms, so luckily I was already familiar with him! But I didn't like him, like at all. He was super weird in my opinion. To be totally honest, I have no reason not to like him except for the fact that he shouldn't be liked. Haha! But what I really liked about this novel was our introduction to Sam. We never got to meet him before but holy flipping smokes! He was described as an insanely hot guy. I am so waiting for the day that SJM DOESN'T give me a super hot male lead. I also really liked reading about YOUNGER Celaena. I can't decide if she was more badass than or with her fae powers!
The Assassin and the Healer (4 stars)
Woooo yay for this novella too. Although it was my least favorite out of all of them, I still really enjoyed it. I actually ended up audio booking this whole novella since I couldn't get into it by just reading it. If it weren't for the audiobook, I probably would've gave this 2 stars. But it definitely picked up! I'll be totally honest, I didn't like Yrene. I always thought of her as more of a healer than an assassin. But in the end, we never really learned Yrene's fate.
The Assassin and the Desert (5 stars)
This was definitely one of my favorite novellas! I loved getting to finally "get-to-know" Ansel Briarcliff! Alike Rolf, she was featured for a little while in Empire of Storms. But, she was also pretty unknown. I loved finally getting to read about her and figuring out why she was super dependent with Ansel as an individual in EOS. Although I hated Ansel so much by the end of this novella, I loved her throughout! She was one of those characters that you can only love for a short time. Ansel was super nice to Celaena throughout the book and I really thought they would make it until the end! This book really showed how much Celaena struggled as an assassin, which was a totally different side of her!
The Assassin and the Underworld (5 stars)
I have to say, if there is any novella that I totally forgot about, it's this one. I found this novel as more of a "filler" for the series. But, there were some kick-ass things that I read about that made me give it five stars! One of my favorite parts of this novel was Celaena's return to the Guild. Who didn't scream when Sam and Celaena reunited?!?! It was just so sweet!  I also loved seeing Celaena's relationship with music in this novel! I loved reading about Celaena in love with the orchestra and  how much music affects her as a character. Somehow, it makes her stronger.
The Assassin and the Empire (5 stars)
Ugh, out of all of the novellas, this one was both the best and the worst. Not that it was bad or anything, it just made me feel so sad inside. I loved getting to get a glimpse of Celaena's apartment before Sam died. The apartment that had Sam's recently worn clothes, sticks of used lavender soap, and the love that never died. I along with probably anyone else who has read the Throne of Glass series knew what was coming with this book. We all knew Sam's death. But it was so darn hard to get through. And then ENDOVIER! Holy, Sarah just loves wrecking our feelings.
THAT'S IT FOR TODAY! I hope you enjoyed this late review. I was a bit busy with some math and an art project this week so I wasn't able to blog. Don't forget to like, comment and follow!
Happy Reading!
~Alaina