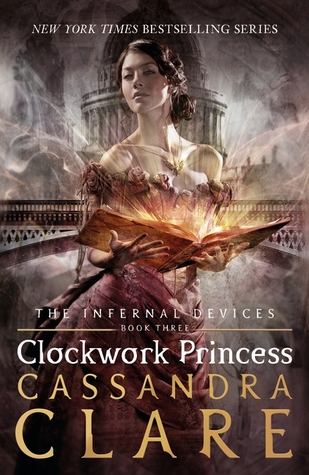 INFORMATION:
Title/Author: Clockwork Princess by Cassandra Clare
Series: The Infernal Devices (3)
Publisher: Margaret K. McElderry Books
Release Date: March 19, 2013
Genre: Young Adult, Fantasy, Paranormal, Romance, Steampunk
ISBN: 9781416975908
SYNOPSIS:
Danger and betrayal, secrets and enchantment in the breathtaking conclusion to the Infernal Devices trilogy.

Tessa Gray should be happy – aren't all brides happy?
Yet as she prepares for her wedding, a net of shadows begins to tighten around the Shadowhunters of the London Institute.
A new demon appears, one linked by blood and secrecy to Mortmain, the man who plans to use his army of pitiless automatons, the Infernal Devices, to destroy the Shadowhunters. Mortmain needs only one last item to complete his plan. He needs Tessa. And Jem and Will, the boys who lay equal claim to Tessa's heart, will do anything to save her.
MY THOUGHTS:
This was a spectacular ending to another fantastic Shadowhunter series! I never expected to enjoy this book as much as I ended up loving it! It was definitely one of Cassie's best works and I would definitely go back and re-read it!
After reading this novel, I realized that I preferred the Infernal Devices over the Mortal Instruments. I still haven't figured out why, though. When I picked up my first Cassandra Clare novel, City of Bones, I didn't really know what to expect. It was an "meh" novel in my opinion. But as I familiarized myself with Cassie's works, I found myself enjoying her novels more and more and even more!
One of the things I really loved about this novel were all of the main characters! Tessa, Jem and Will were the trio to be known with this series. they were the stars and they definitely shined brighter than the other characters. We got to see a lot of Tessa and Will in this novel, but lost Jem due to complications. I also really loved both Gideon and Gabriel Lightwood, Cecily Herondale and Sophie! Without them, this novel would probably be very boring. I also really loved how Cassie paired Gabriel with Cecily and Gideon with Sophie. Both relationships were perfect!
This novel was a bit bland in the action area, but nonetheless, an extraordinary novel. I was really expecting a bigger ending for this book, but the ending that Cassie wrote ended up satisfying me enough. AND THEN THAT EPILOGUE. THAT EPILOGUE. I was a sobbing mess while reading that! For anyone who doesn't know, Will was my favorite character throughout TID and reading about his past memories and death really caught me off guard. But, I'm super excited to see where Cassie goes with The Last Hours. Hopefully we'll see some Infernal Devices parents!
All in all, I ended up giving this novel 5/5 stars. Although I wanted a little bit more from this novel, I really enjoyed it and found it one of Cassie's best works! This is one of those "sit your butt on a couch for ten hours" types of reads. If you are interested in reading this novel, don't forget to read the previous two books in this trilogy. Also, this should be read either before or in between The Mortal Instruments. Reading it after (alike what I did) will contain MAJOR spoilers from TMI.
THAT'S IT FOR TODAY! I hope you all enjoyed this review! Don't forget to like, comment and follow my blog for more posts!
Happy Reading
~Alaina