Spoilers ahead**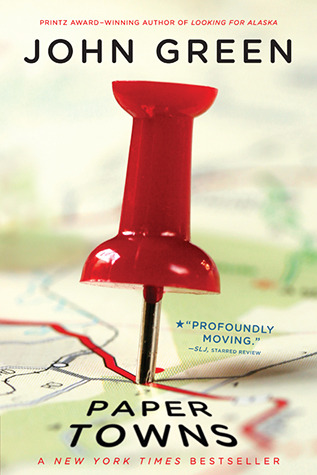 INFORMATION:
Title/Author: Paper Towns by John Green
Series: Standalone
Publisher: Speak (paperback)
Release Date: September 22, 2009
Genre: Young Adult, Contemporary
ISBN: 9780142414934
SYNOPSIS:
Who is the real Margo?

Quentin Jacobsen has spent a lifetime loving the magnificently adventurous Margo Roth Spiegelman from afar. So when she cracks open a window and climbs into his life—dressed like a ninja and summoning him for an ingenious campaign of revenge—he follows. After their all-nighter ends, and a new day breaks, Q arrives at school to discover that Margo, always an enigma, has now become a mystery. But Q soon learns that there are clues—and they're for him. Urged down a disconnected path, the closer he gets, the less Q sees the girl he thought he knew…
MY THOUGHTS:
I will say, I enjoyed this book. But I didn't enjoy it as much as I hoped to. It was okay. Alright. Not the best. But it was an easy, fun read! And very comedic.
I had been wanting to read this book for THE LONGEST TIME! But, I never really felt like buying it from Chapters. So I spent over a year searching for it in thrift stores and used book sales. I even found a Spanish edition once! But finally back in February I was able to snatch myself a copy. And then I read it last week. And finished it yesterday.
I really loved how this contemporary mixed in aspects of mystery and adventure. And of course, humor. This entire book was a big mystery following Margo Roth Spiegelman, a popular girl at school who lives a fascinating life of adventures. The book is fully in Q's perspective, Margo's neighbour who just so happens to be crushing on her. I loved how we followed Q from the day Margo disappear, all the way to the moment he found her. It was super interesting to read about how determined Quentin was to find her!
There were so many other characters that made this book super funny. Of course a high school based novel wouldn't be anything without some popular meanies. In Paper Towns we got to meet Becca, Jase and Chuck, all of which were very minor characters but played a HUGE role in Margo's maddening adventure. And of course, how could I forget about Lacey, Radar, and Ben? They were definitely the biggest minor characters of the book. And really, if it wasn't for them, Q probably would've never made it to Agloe.
Speaking of Agloe, isn't it super cool that John Green used a fictional town as a main city in this novel? I love when authors use cities that haven't been self-created, especially in a contemporary. Agloe is a unincorporated town near Roscoe, New York that was fictionally created. It's basically just an intersection, but you know Margo, always the adventurer.
Margo's clues throughout the novel were insanely clever. She picked things that she enjoyed, but no one else would ever think of as something to use as a clue. But when you involve some band students, an omnictionarian, and a Quentin, you never know the odds of what will be revealed from a bunch of clues. Margo's clues were definitely… different. She involves poets, pseudovisions, and even fictional towns. It was definitely a crazy adventure!
In the end, I ended up giving this book 3.5/5 stars. It was a super fun read but didn't end up catching my attention all too much. I would definitely recommend this book to anyone who enjoys light contemporaries and adventures!
That's it for today! I hope you enjoyed my review of Paper Towns! Don't forget to comment, like, and follow for more of my posts!
Happy Reading!
~Alaina