Hey Book Nerds! It's Alaina. I haven't been on my blog too much lately because of school but, how long did you really think I could go without blogging? Not long, it seems. And since the last time I blogged, WordPress updated their posting stuff, which is pretty cool!
Since its already spring, I decided it was about time to do a spring themed post! And since I don't really read spring contemporaries, book tags were calling my name. I found this really cool one that was originally created by MySecretBookClub on YouTube. So now, let's get straight into this post!
HOW IS SPRING WHERE YOU LIVE?
Mucky. Slushy. Wet. Cold.
I'm pretty sure any other Canadian would say the exact same thing. Canada gets so much snow every year that our springs are just all icky. There's snow melting, flooding and puddles every where. It's not fun at all.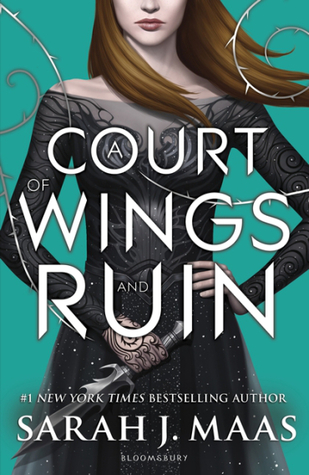 MOST ANTICIPATED BOOK RELEASE THIS SPRING?
ACOWAR! I still need to read ACOMAF but, how could anyone not be excited for this release? Sarah J. Maas is such an incredible author and I don't think I will ever know how she writes two books a year. That's insane! Anyways, ACOTAR was fabulous, ACOMAF is said to be even better and I can only expect more good things to come from ACOWAR!
Feyre has returned to the Spring Court, determined to gather information on Tamlin's maneuverings and the invading king threatening to bring Prythian to its knees. But to do so she must play a deadly game of deceit-and one slip may spell doom not only for Feyre, but for her world as well.

As war bears down upon them all, Feyre must decide who to trust amongst the dazzling and lethal High Lords-and hunt for allies in unexpected places.
SHOW US A BOOK COVER THAT REMINDS YOU OF SPRING!
I've got to go with the answer "ABookUniverse" of Alienated. How could this book not make you think of spring? The bottom half of the book literally features a sunny, spring day. Sadly, I haven't been able to read this book yet. But I am super excited because I love to read alien novels and this one has been catching my eye for the longest time.
Two years ago, the aliens made contact. Now Cara Sweeney is going to be sharing a bathroom with one of them.

Handpicked to host the first-ever L'eihr exchange student, Cara thinks her future is set. Not only does she get a free ride to her dream college, she'll have inside information about the mysterious L'eihrs that every journalist would kill for. Cara's blog following is about to skyrocket.

Still, Cara isn't sure what to think when she meets Aelyx. Humans and L'eihrs have nearly identical DNA, but cold, infuriatingly brilliant Aelyx couldn't seem more alien. She's certain about one thing, though: no human boy is this good-looking.

But when Cara's classmates get swept up by anti-L'eihr paranoia, Midtown High School suddenly isn't safe anymore. Threatening notes appear in Cara's locker, and a police officer has to escort her and Aelyx to class.

Cara finds support in the last person she expected. She realizes that Aelyx isn't just her only friend; she's fallen hard for him. But Aelyx has been hiding the truth about the purpose of his exchange, and its potentially deadly consequences. Soon Cara will be in for the fight of her life—not just for herself and the boy she loves, but for the future of her planet.
WHERE ARE YOU GOING TO READ THIS SPRING?
Totally depends. I am lucky enough to be going on a vacation during spring break so I definitely want to read at the beach and on the airplanes. But by far my favorite place to read is just on my bed, snuggled between fuzzy blankets, coffee in hand with the sunlight shining through my window. I also enjoy reading in coffee shops, specifically Starbucks. There's a really cute Starbucks at the nearest bookstore and I swear I can't help but pick up a random book and flip through the pages.
FIND A COVER WITH THE SUN ON IT:
The Fill-In Boyfriend by Kasie West! Although this cover doesn't call out "spring" to me, it definitely has a sun on it. The cover reminds me a lot of a late August night. So really, not at all like spring but, it does have that little sunshine on the cover. I would definitely recommend this novel if you ever want a super light, quick contemporary read. Kasie's writing is super fun to read and you are definitely missing out if you haven't read this!
When Gia Montgomery's boyfriend, Bradley, dumps her in the parking lot of her high school prom, she has to think fast. After all, she'd been telling her friends about him for months now. This was supposed to be the night she proved he existed. So when she sees a cute guy waiting to pick up his sister, she enlists his help. The task is simple: be her fill-in boyfriend—two hours, zero commitment, a few white lies. After that, she can win back the real Bradley.

The problem is that days after prom, it's not the real Bradley she's thinking about, but the stand-in. The one whose name she doesn't even know. But tracking him down doesn't mean they're done faking a relationship. Gia owes him a favor and his sister intends to see that he collects: his ex-girlfriend's graduation party—three hours, zero commitment, a few white lies.

Just when Gia begins to wonder if she could turn her fake boyfriend into a real one, Bradley comes waltzing back into her life, exposing her lie, and threatening to destroy her friendships and her new-found relationship.
WHAT ARE YOUR FAVORITE SPRING READS?
I absolutely adore reading fantasy in paranormal novels in the spring! But really, when do I not? Paranormal is my all-time favorite genre and spring is on of those seasons where they actually fit in perfectly. Every season is kind of different. Summer is big for contemporaries and big, fat fantasy novels. Winter is big for deep contemporaries (meaningful) and high fantasy novels. And then Spring and Fall just fall in between the two. I find that dystopias, paranormals and plain ole' fantasy novels fit best for these seasons!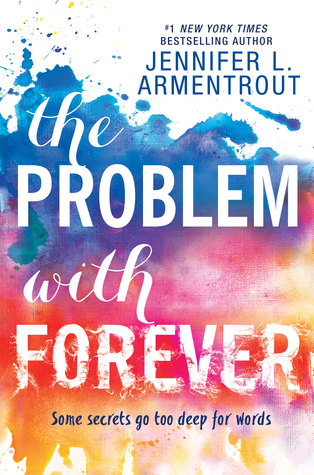 FIND A BOOK WITH MANY DIFFERENT COLOURS ON IT:
THE PROBLEM WITH FOREVER!! I am so freaking in love with this cover! All of the colours just explode in your face! Being a paint lover myself, this cover captured my attention immediately! I absolutely love how unique this cover is compared to the rest of Jennifer's novels. Most of them feature a really sexy man on the cover. So, the paint splatters are a bit of a relaxation from that.
For some people, silence is a weapon. For Mallory "Mouse" Dodge, it's a shield. Growing up, she learned that the best way to survive was to say nothing. And even though it's been four years since her nightmare ended, she's beginning to worry that the fear that holds her back will last a lifetime.

Now, after years of homeschooling with loving adoptive parents, Mallory must face a new milestone—spending her senior year at public high school. But of all the terrifying and exhilarating scenarios she's imagined, there's one she never dreamed of—that she'd run into Rider Stark, the friend and protector she hasn't seen since childhood, on her very first day.

It doesn't take long for Mallory to realize that the connection she shared with Rider never really faded. Yet the deeper their bond grows, the more it becomes apparent that she's not the only one grappling with the lingering scars from the past. And as she watches Rider's life spiral out of control, Mallory faces a choice between staying silent and speaking out—for the people she loves, the life she wants, and the truths that need to be heard.
WHO DO YOU TAG?
Everyone, of course! If any of you are bloggers or booktubers, feel free to do this tag and count it as tagged by me!
I hope you all enjoyed this very long awaited post! I'm going to be drafting a lot of blog posts this weekend so that they can go up next week when I'm on vacation. Don't forget to comment, like, and follow!
Happy Reading!
~Alaina