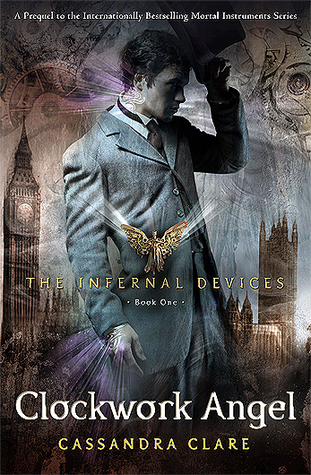 INFORMATION:
Title/Author: Clockwork Angel by Cassandra Clare
Series: The Infernal Devices (#1)
Publisher: Simon & Schuster, Margaret K. McElderry
Release Date: August 31, 2010
Genre: Fantasy, YA, Historical Fiction, Romance
ISBN: 9781416975861
SYNOPSIS:
In a time when Shadowhunters are barely winning the fight against the forces of darkness, one battle will change the course of history forever. Welcome to the Infernal Devices trilogy, a stunning and dangerous prequel to the New York Times bestselling Mortal Instruments series.

The year is 1878. Tessa Gray descends into London's dark supernatural underworld in search of her missing brother. She soon discovers that her only allies are the demon-slaying Shadowhunters—including Will and Jem, the mysterious boys she is attracted to. Soon they find themselves up against the Pandemonium Club, a secret organization of vampires, demons, warlocks, and humans. Equipped with a magical army of unstoppable clockwork creatures, the Club is out to rule the British Empire, and only Tessa and her allies can stop them…
MY THOUGHTS:
I've got to say, I didn't have a lot of hope for this book. I read it after The Mortal Instruments, unlike the alternating you're supposed to do with the two series. But, boy oh boy, this book exceeded my expectations. By a lot, too!
One of the things that really brings me into a book is a intriguing, (kickass, if fantasy) intro. And this one has one of the best. Most books start off with a bit of backstory, so I was expecting to read about Tessa walking along The Strand, thinking about books. But turns out, Cassandra Clare really wanted me to enjoy this book and made the first chapter as kickass as possible. Like holy, it's not everyday that the first chapter of a book has fighting, let alone, a fight to remember. The fight between Mrs. Dark, Mrs. Black and Will Herondale was upper intense and was definitely the best introduction I could ever get to Will!
I really loved all of the characters in this novel! Tessa Gray is the one character that all of us readers can connect with. She's a reader herself, of course! There are many moments throughout the novel where she would go off quoting Shakespeare and Dickens, which was super cool. Will Herondale is that badass to be loved! Who couldn't love him? He has that perfect, tousled black hair and vibrant blue eyes. And even, he's got that cocky, bad boy, British side to him. Jem Carstairs is our angelic British Shadowhunter from Shanghai. I absolutely loved Jem and Will's parabatai bond together. They cared for each other and would do anything to save the other.
The villains in Clockwork Angel were quite unique compared to any other ones I've read about. Steampunk was huge in the Victorian era, and it definitely played a huge part in this novel. The villain band was nicknamed "The Clockwork Army," for they were robotic automatons. I found it super cool how the battle was between heavily armed Shadowhunters and automatons. It doesn't really seem right, but Cassandra definitely made it work!
I gave this book 4.5/5 stars. I think I definitely would've gave it all five star but, there were a few points n the novel that dragged on a bit longer than needed. And, I'm not too big a fan of the 30 page chapters. Although I love having more Cassandra Clare, sometimes I really just want to put the book down and do something else. But I really love these books so I shouldn't really complain about that.
All in all, I've procrastinated reading this book for too long. It is definitely a get-off-your-butt-and buy-this-immediately, type of read. I feel like you could definitely read this before The Mortal Instruments. It is recommended to read it with the alternating method but, if you are okay with some spoilers, you could definitely read this after The Mortal Instruments!
That's it for today, Book Nerds! I hope you enjoyed this review. Don't forget to like, comment and follow!
Happy Reading!
~Alaina