*credits to booksandbakes1 for the incredible banner*
Hey Book Nerds! Ahhh it's finally the weekend and I could not be more excited! This past week of school has been super exhausting. I've been through my fair share of math formulas, pencil crayons and lined papers this past week. But, now I'm back and I will hopefully be blogging more this weekend! And reading too. Can't forget about hitting all of those fantasy books!
Once again, I was looking through"Dreamlandbookblog"'s tags and I came across this one! I thought it would be perfect. Although I wasn't tagged, I couldn't help but do this tag. Before I start, I just wanted to tag everyone who sees this to do this tag! Now let's get into the tag!
---
FIND A BOOK FOR EACH OF YOUR INITIALS:
A: A Court Of Thorns And Roses by Sarah J. Maas
L: Lady Midnight by Cassandra Clare
A: After by Anna Todd
I: Insurgent by Veronica Roth
N: Nevernight by Jay Kristoff
A: An Ember In The Ashes by Sabaa Tahir
---
COUNT YOUR AGE ALONG YOUR BOOKSHELF. WHAT IS IT?
#14 on my bookshelf is City Of Lost Souls by Cassandra Clare! If only I was fifteen, then I would've gotten City of Heavenly Fire.
What price is too high to pay, even for love? When Jace and Clary meet again, Clary is horrified to discover that the demon Lilith's magic has bound her beloved Jace together with her evil brother Sebastian, and that Jace has become a servant of evil. The Clave is out to destroy Sebastian, but there is no way to harm one boy without destroying the other. As Alec, Magnus, Simon, and Isabelle wheedle and bargain with Seelies, demons, and the merciless Iron Sisters to try to save Jace, Clary plays a dangerous game of her own. The price of losing is not just her own life, but Jace's soul. She's willing to do anything for Jace, but can she still trust him? Or is he truly lost?
---
PICK A BOOK SET IN YOUR CITY/COUNTRY:
To be totally honest, I don't think I've ever read a book that takes place in my country. I'm Canadian and any book that takes place in my country is usually written by an indie or unknown author. So with that said, I don't really reach for those books. But, I do remember a little scene from Prodigy by Marie Lu that took place in Canada. But that's about it. I lead towards the fictional worlds. Although I do love myself a great Urban Fantasy novel, a made up world is a bit more appealing!
---
PICK A BOOK THAT REPRESENTS A DESTINATION YOU WOULD LOVE TO TRAVEL TO:
Ummm, how could I not pick City of Bones for this!?!? As a lot of you know by now (unless your new), I have a dream to visit New York. Aside from books, I'm always thinking about New York and the Empire State Building and the Brooklyn Bridge. I dream to visit that place and visit every single thing there is to do, especially go to The Strand!
---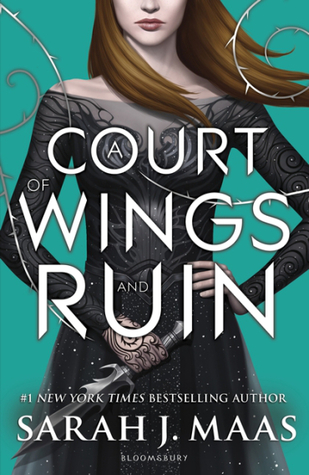 PICK A BOOK THAT IS YOUR FAV COLOUR:
A Court Of Wings And Ruin! My favorite colour is definitely green and this cover features one of my favorite shades! And even, how could you not love this cover?!I love how Sarah J. Maas took inspiration from a piece of ACOMAF fanart for the cover! It's so amazing how artists create fanart that authors ACTUALLY notice. I kind of wish I could draw something pretty enough to go on a book cover. *prays*
---
WHICH BOOK DO YOU HAVE THE FONDEST MEMORIES OF:
Guess! If you've been here for a while, I think you would know! Well… definitely Obsidian by Jennifer L. Armentrout. It may be because I've reread it like a billion times. But, I like to think that I have the strongest memories of my favorite books. I could probably read out Obsidian scene by scene, for all I know. But this book will probably always stay with me, no matter what. And even, I first read this book in a backyard that was being reconstructed. I think that says enough for FOND MEMORIES.
---
WHICH BOOK DID YOU HAVE THE MOST DIFFICULTY READING:
Hmmm, lets go with Outlander by Diana Gabaldon. This was 2 months of book slump HORROR. Although I loved the novel, it took me FOREVER to read! If you read my review for it (CLICK HERE), you would know that I rated it 3.75 stars. Probably now, it would've gotten a rating of 3 or 2.75 from me. Don't get me wrong, it was an amazing book. But, I just had such a struggle getting into parts of it. I will definitely be continuing the series in the future though!
---
WHICH BOOK IN YOUR TBR PILE WILL GIVE YOU THE BIGGEST ACCOMPLISHMENT WHEN YOU FINISH IT:
…
Les Miserables.
…
That book is over 1000 pages!
---
That's it for today Book Nerds! Don't forget to like, comment and follow my blog!
Happy Reading!
~Alaina