Hey book nerds! As promised, I am finally posting another monthly recap. I've forgotten about these a lot but, couldn't help but do one for this month. Sadly I didn't buy any books during January but, I went to a used book sale today and bought A LOT of books that will be featured in my February haul, unless I read them before then. haha. But, January was a really good start to my 2017 reading goal and I cannot wait to see how far I'll get in it! SO, let's dive straight into this post!
WHAT I READ LAST MONTH: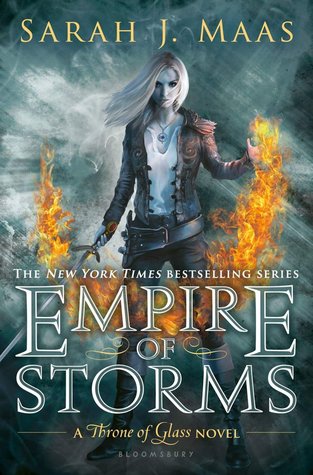 Empire of Storms by Sarah J. Maas:
The long path to the throne has only just begun for Aelin Galathynius. Loyalties have been broken and bought, friends have been lost and gained, and those who possess magic find themselves at odds with those don't.

As the kingdoms of Erilea fracture around her, enemies must become allies if Aelin is to keep those she loves from falling to the dark forces poised to claim her world. With war looming on all horizons, the only chance for salvation lies in a desperate quest that may mark the end of everything Aelin holds dear.

Aelin's journey from assassin to queen has entranced millions across the globe, and this fifth installment will leave fans breathless. Will Aelin succeed in keeping her world from splintering, or will it all come crashing down?
This book was breathtakingly phenomenal. Honestly, I don't know what I would do without Aelin, Rowan and the rest of the court. But, that cliffhanger hit me super hard. And now, we have to wait until 2018 for the next book. **silently sobs in the corner**
5 stars!
---
City Of Heavenly Fire by Cassandra Clare:
In this dazzling and long-awaited conclusion to the acclaimed Mortal Instruments series, Clary and her friends fight the greatest evil they have ever faced: Clary's own brother.

Sebastian Morgenstern is on the move, systematically turning Shadowhunter against Shadowhunter. Bearing the Infernal Cup, he transforms Shadowhunters into creatures out of nightmare, tearing apart families and lovers as the ranks of his Endarkened army swell.

The embattled Shadowhunters withdraw to Idris – but not even the famed demon towers of Alicante can keep Sebastian at bay. And with the Nephilim trapped in Idris, who will guard the world against demons?

When one of the greatest betrayals the Nephilim have ever known is revealed, Clary, Jace, Isabelle, Simon, and Alec must flee – even if their journey takes them deep into the demon realms, where no Shadowhunter has set foot before, and from which no human being has ever returned…

Love will be sacrificed and lives lost in the terrible battle for the fate of the word in the thrilling final installment of the classic urban fantasy series The Mortal Instruments!
This was such an amazing conclusion to this series. I absolutely adored this series and am still in a state of "I DON'T KNOW WHAT TO DO ANYMORE" because of this ending. It's made me super excited to start The Infernal Devices and I absolutely cannot wait to dive back into the Shadow world. And of course, I will reread this series one day. Believe me, I won't survive without Jace.
5 stars!
---
Hush, Hush by Becca Fitzpatrick:
A SACRED OATH
A FALLEN ANGEL
A FORBIDDEN LOVE

Romance was not part of Nora Grey's plan. She's never been particularly attracted to the boys at her school, no matter how hard her best friend, Vee, pushes them at her. Not until Patch comes along. With his easy smile and eyes that seem to see inside her, Patch draws Nora to him against her better judgment.

But after a series of terrifying encounters, Nora's not sure whom to trust. Patch seems to be everywhere she is and seems to know more about her than her closest friends. She can't decide whether she should fall into his arms or run and hide. And when she tries to seek some answers, she finds herself near a truth that is way more unsettling than anything Patch makes her feel.

For she is right in the middle of an ancient battle between the immortal and those that have fallen – and, when it comes to choosing sides, the wrong choice will cost Nora her life.
I was super scared to start this series because of all of the mixed reviews on it but oh-my-god, I am super happy that I got to reading it! I am such a killer for YA paranormal and this one definitely didn't disappoint. Just give me a paranormal book with a bad boy in it and I am good! And, Patch was such a hottie in this!
4 stars!
---
FEBRUARY TBR:
Fallen by Lauren Kate:
What if the person you were meant to be with could never be yours?

17-year-old Lucinda falls in love with a gorgeous, intelligent boy, Daniel, at her new school, the grim, foreboding Sword & Cross . . . only to find out that Daniel is a fallen angel, and that they have spent lifetimes finding and losing one another as good & evil forces plot to keep them apart.

Get ready to fall . . .
P. S. I actually finished this book already and my review will be up Friday, February 3!
---
The Pharaoh's Cat by Maria Luisa Lang (for review):
The cat becomes the Pharaoh's constant companion and, at the royal palace and on a tour of Egypt, participates in the festivities, developing an insatiable appetite for good food, wine, and gossip. Gradually, he renews the Pharaoh's ability to enjoy life and inspires him to become a stronger leader. The bond of selfless love they share will change Egypt's destiny.

The cat has a good friend in the High Priest of the god Amun-Ra and seeks his help in solving the mystery of his human powers and the supernatural manifestations that plague him. He has a mortal enemy in the Vizier—the second most powerful man in Egypt–who hates him for his close relationship with the Pharaoh. The Vizier's persecution of the cat ultimately results in his fleeing with the High Priest to present-day New York City, where they find an ally in an Egyptologist's daughter.
I was greatly sent this novel for review from the author. Also, it's my current read. haha.
---
The Eye of Nefertiti by Maria Luisa Lang (for review):
The cat is quick-witted, wise-cracking narrator as well as free-spirited, ever-curious protagonist, and the story he tells is an exotic, imaginative, spell-binding tragicomedy. The cat travels from present-day New York City to England, both ancient and modern, then to ancient Egypt, where he confronts a horrible demon and experiences a sublime emotion. Once back in England, he descends into a psychological abyss so deep only the Pharaoh can save him.

The Eye of Nefertiti interweaves feline and human, past and present, natural and supernatural. It contains numerous surprises, twists and turns, intriguing characters, both human and animal, fascinating revelations about ancient Egyptian history and culture, and an ingenious application of the Tarot and an Italian opera.
I was also greatly sent this novel from the author!
---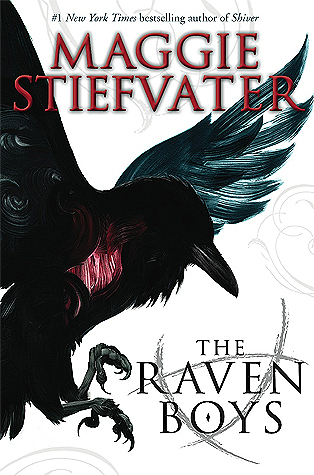 The Raven Boys by Maggie Stiefvater (reread):
"There are only two reasons a non-seer would see a spirit on St. Mark's Eve," Neeve said. "Either you're his true love . . . or you killed him."

It is freezing in the churchyard, even before the dead arrive.

Every year, Blue Sargent stands next to her clairvoyant mother as the soon-to-be dead walk past. Blue herself never sees them—not until this year, when a boy emerges from the dark and speaks directly to her.

His name is Gansey, and Blue soon discovers that he is a rich student at Aglionby, the local private school. Blue has a policy of staying away from Aglionby boys. Known as Raven Boys, they can only mean trouble.

But Blue is drawn to Gansey, in a way she can't entirely explain. He has it all—family money, good looks, devoted friends—but he's looking for much more than that. He is on a quest that has encompassed three other Raven Boys: Adam, the scholarship student who resents all the privilege around him; Ronan, the fierce soul who ranges from anger to despair; and Noah, the taciturn watcher of the four, who notices many things but says very little.

For as long as she can remember, Blue has been warned that she will cause her true love to die. She never thought this would be a problem. But now, as her life becomes caught up in the strange and sinister world of the Raven Boys, she's not so sure anymore.
Yes, I've already read this book and even though I have a towering TBR that will kill me someday, I NEED A REREAD. Well actually, I'm rereading it so that I can read the next book. I kinda forgot what happened in this one… but yea.
---
The Infernal Devices by Cassandra Clare:
In a time when Shadowhunters are barely winning the fight against the forces of darkness, one battle will change the course of history forever. Welcome to the Infernal Devices trilogy, a stunning and dangerous prequel to the New York Times bestselling Mortal Instruments series.

The year is 1878. Tessa Gray descends into London's dark supernatural underworld in search of her missing brother. She soon discovers that her only allies are the demon-slaying Shadowhunters—including Will and Jem, the mysterious boys she is attracted to. Soon they find themselves up against the Pandemonium Club, a secret organization of vampires, demons, warlocks, and humans. Equipped with a magical army of unstoppable clockwork creatures, the Club is out to rule the British Empire, and only Tessa and her allies can stop them…
Yes, that is the synopsis for Clockwork Angel. Not the whole series. But, I haven't looked at the synopsis for the other books and I don't want to spoil them. But, I plan to read and finish this whole series this month in hope of buying and reading Lady Midnight next month.
---
That's it for today's post! I was so happy with everything I read last month and I'm already 1 book ahead of my Goodreads challenge. Let's hope I can reach my goal of 40 books! Don't forget to like, comment and follow my blog!
Happy Reading!
~Alaina