**Mild spoilers throughout, and VERY long. You've been warned**
'"You've never seen what everyone else sees when it comes to me," he explained.'
This book was one of the many books that I go into with no recollection of what it's about. But sometimes, not knowing is the best way to read a book. It allows the author to take you on a wild rollercoaster filled with surprises. That's what happened in the Problem With Forever.
I heard of this book coming out earlier in 2016 but never had thoughts of getting it. Although Jennifer L. Armentrout is my favorite author, I hate buying hardcovers. Let alone reading out of them. They are extremely pricey and I always end up breaking the spine from laying them flat on tables. But, then came Christmas and I couldn't help but ask for it. Help me if I am the only person who asks for hardcover books for Christmas and any other celebrations that people bring gifts for. It's a terrible and completely careless habit of mine but, sometimes the best books are in hardcover when you want them. That's sort of how things went with this particular book.
I actually ended up picking this book up on the 27, very early in the morning. I think probably around one. I had just finished Faceless by Alyssa Sheinmel and couldn't help but dive straight into another contemporary. But oh boy, had I known what I was getting myself into, I probably wouldn't have picked up this particular contemporary. But It wasn't a disappointment on any terms so I wouldn't rewind to the past and pick up anything different.
The Problem With Forever follows Mallory Dodge as she comes back into the realm of sociality. After being home schooled for four years, she decides that she has to face her fears and live the life of a normal teenager, not the mute girl she has become. She prefers to stay quiet, it's her special weapon. But, on the first day of her journey to become a whole new person, she finds herself sitting right next to her childhood protector, Rider Stark. Before that moment, she didn't believe that her life would change but really, it did.
Part I: Characters:
The characters in this book pulled me in until I couldn't stop reading about them. I spent endless hours a day, reading page after page because of how unique each character was. But out of all of the characters, I would have to say that my favorite was Mallory. She was such a trooper within all 474 pages of this novel that I couldn't help but pick her as my favorite!
Mallory Dodge, also nicknamed 'Mouse' throughout the novel was the mains tar of this novel. She is the adopted daughter of two doctors, Carl and Rosa Rivas. But, let's be real, adopted children are nothing like their "parents", their lives are just affected by them. So with that said, Mallory doesn't have any of their beautiful looks or smarts. But, she is uniquely different. With her dyed red hair, few freckles and pale skin, she is herself. But along her pale skin are splashes of light pink that are a bright reminder of her past; the terrible and unforgettable past that haunts her every move. Aside from looks, Mallory is also super shy, sometimes even inaudible. Doctors have told her that it's because of "Post Traumatic Stress Disorder (PTSD)" but Mal knows by heart that it isn't. Throughout the novel, Mallory learns how to get past her defensive weapon and learn to shine as the person she is.
Rider Stark is the famous 'Jennifer L. Armentrout bad boy' of this novel. But to be totally honest, he wasn't a bad person at all. Of course if you were some random person who walked past him, he would totally look lie a bad boy. He's just got the look to him: tousled coffee coloured hair, dark eyes and muscles all over. But along with Mallory, he has had a rocky past. They grew up in a house filled with danger, and at a young age, Rider took a stand and protected Mal through everything. He was her childhood best friend. He read to her, shoed away her nightmares, and even slept with her. He was her grounder. And when he returned into her life, both of there's became even MORE messed up than the four years they lived without each other. But, everything always came back to how it should be.
And if I just bring out a little bit of my pop-music-loving-self, I think it's the perfect time to quote an Irish fella by the name of… Niall Horan: "Over and over the only truth, everything comes back to you" ~This Town
Then we move on to our two "minor" boys who play such a big role in this story, Jayden and Hector. They lived with their grandmother throughout this novel who just so happened to be Rider's foster parent. The two siblings live a poor life that is filled with bad stuff, but some how they live with it and still keep a smile on their faces. Although Jayden is younger than the rest of the "crew", he still forced his way into Mallory's life and GOD AM I NOT DISSAPOINTED BY THAT. I love books that have a really talkative, happy-go-lucky side character in it! And then we have Hector, almost a polar opposite of Jayden. Although he can still be as happy as his brother, he's a bit more put together and chill.
Finally, we have our three minor ladies, Keira, Paige and Ainsley! All of these three characters played huge roles with shaping who Mallory became. So, let's just start with the person who did the least to affect Mal's journey to normal: Keira. She's one of the popular and super pretty cheerleaders who just so happened to be one of the first people to talked to Mallory. Sometimes it's hard to believe that the prettiest and most popular people at a school can be super nice when it comes to someone new and struggling. Then we have Paige, who affected Rider waaaaaayyy more. Like off the charts 'more'. She was chained like a dog to him. But instead of Rider leading their relationship, I'm pretty sure it was Paige. She was super pretty, but really snarky. Basically that cliché popular girl. And then we have the dear beauty, Ainsley. I loved her so much. Mal and Ainsley were basically homeschool buddies until they became best friends. And god, anyone who reads this book will fall in love with her!
Part II: Storyline
If anything, deep contemporaries are a no-brainer read for me. I love how inspiring and influential they can become. And this one has become one of my favorites.
When I first picked this book up on Tuesday, I skimmed through the first paragraph of the synopisis and dived straight into the book. And I will admit, the prologue was super confusing at first and I had to reread the first chapter a few times. But once I made it to the 50th page, I got the gist of Mallory and Rider's past. And then we moved on to what I like to call "Mallory's troublesome journey to normal". But there's the problem right there. No one is normal. Not even the girl who is currently typing up this review that is at 1242 words. We all have tiny imperfections that make us unique. And Mallory, she is "really" unique.
The story started out with a prologue that explained their past life. It was a flashback to four years before the actual story began and we got to view the tortured life both Rider and Mallory had growing up. Then, fast forward to the present day, we followed Mallory as she starts school and begins "project socialization" a.k.a., "Mallory's troublesome journey  to normal".
Wow. I make lots of nicknames and code names for things that happened in this novel.
Anyways, the storyline of this novel was PHENOMENAL. Although it wasn't the overly cliché, happy contemporary novel I was in the mood for, this definitely satisfied me anyways. It IS Jennifer L. Armentrout we are talking about here, and her books always astonish me.
The book isn't overly sad but be warned, you will definitely shed some big, ugly tears. It is the inevitable with this book. Especially once you hit page…. 371 I think. I was bawling some big tears at three in the morning when I read that part.
And….. That's it!
This book is perfect for anyone who loves deep contemporaries (alike myself), not overly cliché romance, and very inspiring reads. It basically is the YA version of one of those super motivational adult books.
But before I end this post, I just wanted to let you all know that while reading this, try to figure out the problem with forever. Mallory has her own problem with forever, but I want to hear yours! Comment them down below if you have one and I'll be sure to read them. Don't forget to also like and share this post!
Some extra information about the book: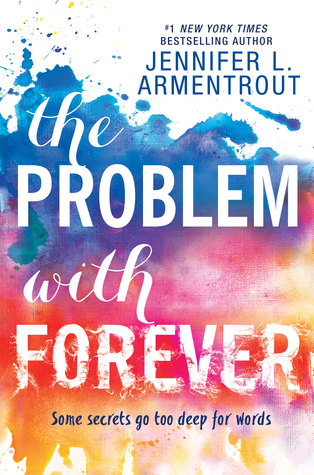 Yes, I know, I wrote this review in a backwards format. But we're just going to go with it!
Title/Author: The Problem With Forever by Jennifer L. Armentrout
Series: Standalone Novel
Release Date: May 17, 2016
Publisher: Harlequin Teen
Page Count: 474
ISBN: 9780373212057
Buy The Book: Amazon | Chapters | Barnes and Noble | Book Depository
Add To Goodreads: Click Here
"Forever was something we all took for granted, but the problem with forever was that it really didn't exist."
Happy Reading!
~Alaina