Hello everyone! I wasn't planning on posting today but, it's 10:30 pm where I live and I have absolutely nothing to do. So, here I am! And I promised that I would share my bookish Christmas wish-list with you guys so here it is! I asked for quite a few books this year and although I probably won't get them all, it's nice to get a few. So without further ado, let's reveal my Christmas list!
---
Hush Hush by Becca Fitzpatrick:
I have been wanting this book for YEARS now! I am a huge paranormal reader and love the ideas of angels and demons in books. So, this book is basically straight up my alley. I have heard some rumors about it relating very closely to twilight but, I don't care. So many books are actually Twilight fan-fiction.
"Romance was not part of Nora Grey's plan. She's never been particularly attracted to the boys at her school, no matter how hard her best friend, Vee, pushes them at her. Not until Patch comes along. With his easy smile and eyes that seem to see inside her, Patch draws Nora to him against her better judgment.

But after a series of terrifying encounters, Nora's not sure whom to trust. Patch seems to be everywhere she is and seems to know more about her than her closest friends. She can't decide whether she should fall into his arms or run and hide. And when she tries to seek some answers, she finds herself near a truth that is way more unsettling than anything Patch makes her feel.

For she is right in the middle of an ancient battle between the immortal and those that have fallen – and, when it comes to choosing sides, the wrong choice will cost Nora her life."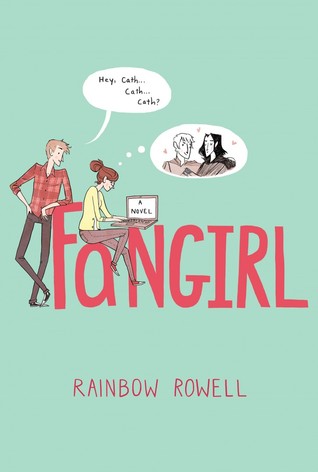 ---
Fangirl by Rainbow Rowell:
Well, I am one of the few readers that haven't already jumped on to the Rainbow Rowell bandwagon. I've always wanted to start one but I never bring enough money to bookstores to buy the expensive hardbacks that they sell. I wish Canada had paperback versions of them. if that was the case, I probably would already have all of her books!
"Cath is a Simon Snow fan.

Okay, the whole world is a Simon Snow fan…

But for Cath, being a fan is her life—and she's really good at it. She and her twin sister, Wren, ensconced themselves in the Simon Snow series when they were just kids; it's what got them through their mother leaving.

Reading. Rereading. Hanging out in Simon Snow forums, writing Simon Snow fan fiction, dressing up like the characters for every movie premiere.

Cath's sister has mostly grown away from fandom, but Cath can't let go. She doesn't want to.

Now that they're going to college, Wren has told Cath she doesn't want to be roommates. Cath is on her own, completely outside of her comfort zone. She's got a surly roommate with a charming, always-around boyfriend, a fiction-writing professor who thinks fan fiction is the end of the civilized world, a handsome classmate who only wants to talk about words… And she can't stop worrying about her dad, who's loving and fragile and has never really been alone.

For Cath, the question is: Can she do this?

Can she make it without Wren holding her hand? Is she ready to start living her own life? Writing her own stories?

And does she even want to move on if it means leaving Simon Snow behind?"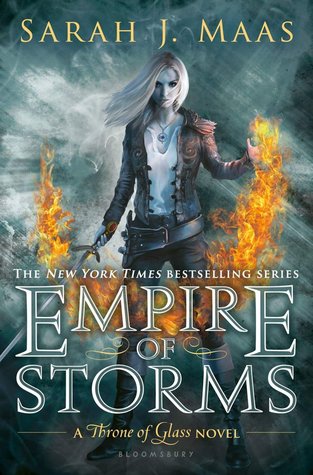 ---
Empire of Storms by Sarah J. Maas:
A.K.A the book that I want the most for Christmas! I am a die-hard fan of Sarah's and have been wanting a copy of EOS since it came out. But, money problems. Why are all of the books I want only available in hardback? But hey, we'll all just pray that I receive this beauty!
"The long path to the throne has only just begun for Aelin Galathynius. Loyalties have been broken and bought, friends have been lost and gained, and those who possess magic find themselves at odds with those don't.

As the kingdoms of Erilea fracture around her, enemies must become allies if Aelin is to keep those she loves from falling to the dark forces poised to claim her world. With war looming on all horizons, the only chance for salvation lies in a desperate quest that may mark the end of everything Aelin holds dear.

Aelin's journey from assassin to queen has entranced millions across the globe, and this fifth installment will leave fans breathless. Will Aelin succeed in keeping her world from splintering, or will it all come crashing down?"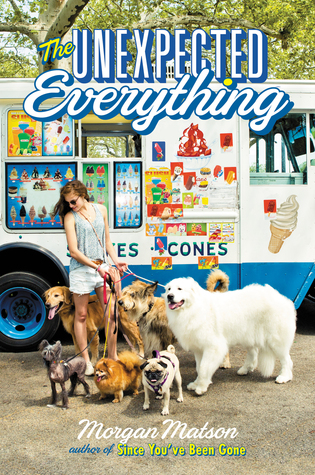 ---
The Unexpected Everything by Morgan Matson:
I've only read one other book by Morgan and I absolutely adored it! (Since You've Been Gone).It was such an amazing read and although most of her books are summer themed, I couldn't help but ask for another one for Christmas! And even, it has a bunch of super cute dogs on the front cover!
"Andie had it all planned out. When you are a politician's daughter who's pretty much raised yourself, you learn everything can be planned or spun, or both. Especially your future. Important internship? Check. Amazing friends? Check. Guys? Check (as long as we're talking no more than three weeks).

But that was before the scandal. Before having to be in the same house with her dad. Before walking an insane number of dogs. That was before Clark and those few months that might change her whole life. Because here's the thing—if everything's planned out, you can never find the unexpected. And where's the fun in that?"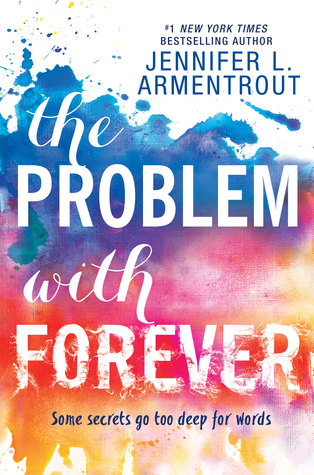 ---
The Problem With Forever by Jennifer L. Armentrout:
I am also a die-hard Jennifer L. Armentrout fan! I've read her whole entire Lux series and have started her Dark Elements series. But, when I heard that she released this book, I needed to get my hands on it. But as y'all can see, it's December and my hands aren't grasping the book yet.
"For some people, silence is a weapon. For Mallory "Mouse" Dodge, it's a shield. Growing up, she learned that the best way to survive was to say nothing. And even though it's been four years since her nightmare ended, she's beginning to worry that the fear that holds her back will last a lifetime.

Now, after years of homeschooling with loving adoptive parents, Mallory must face a new milestone—spending her senior year at public high school. But of all the terrifying and exhilarating scenarios she's imagined, there's one she never dreamed of—that she'd run into Rider Stark, the friend and protector she hasn't seen since childhood, on her very first day.

It doesn't take long for Mallory to realize that the connection she shared with Rider never really faded. Yet the deeper their bond grows, the more it becomes apparent that she's not the only one grappling with the lingering scars from the past. And as she watches Rider's life spiral out of control, Mallory faces a choice between staying silent and speaking out—for the people she loves, the life she wants, and the truths that need to be heard."
---
Fallen by Lauren Kate:
This book catches my eye a lot in bookstores but everytime I go to them, I prioritize other books. Such a bad habit of mine but maybe I will receive it for Christmas! Let's all hope!
"What if the person you were meant to be with could never be yours?

17-year-old Lucinda falls in love with a gorgeous, intelligent boy, Daniel, at her new school, the grim, foreboding Sword & Cross . . . only to find out that Daniel is a fallen angel, and that they have spent lifetimes finding and losing one another as good & evil forces plot to keep them apart.

Get ready to fall . . . "
I hope you all enjoyed this post! Don't forget to like, comment, follow and share!
Happy Reading!
~Alaina