"I love snow for the same reason I love Christmas: It brings people together while time stands still. Cozy couples lazily meandered the streets and children trudged sleds and chased snowballs. No one seemed to be in a rush to experience anything other than the glory of the day, with each other, whenever and however it happened."
Happy Blogmas Day #2! I posted on my bookstagram account (that you can find on the right side of my blog) about snow coloured books. So I thought, what better thing to post then white book recommendations!
Winter is one of my favorite seasons. Not necessarily because of the weather, but more about the scenery. I love to watch the thick, detailed snowflakes slowly fall from the sky, blanketing the ground with white fluff; curling up and drinking a nice, warm cup of hot cocoa while reading a huge book. There's nothing better than being able to stay nice and cozy in front of a fire while reading a nice book. Preferably, I like to read deep contemporaries, intense high fantasy or classics during the winter but, today I will be recommending some of my favorite white-spined books! White (or maybe a cream or grey) is the only colour that I can use to describe the winter season (not Christmas). You look out a window and there's snow. Snow everywhere. So in honor of it, here are some snowy book recommendations!
---
Lux: Consequences by Jennifer L. Armentrout:
This is a bind-up of the third and fourth books in the lux series. I recommend everyone picks up this if they have previously read either the Lux: beginnings bind-up or both Obsidian and Onyx. Although most of my "white" recommendations have nothing t0 do with winter, this one definitely does. The first book in this book fully takes place in winter. And the cover just so happens to be white and sparkly!
"Opal
After everything, I'm no longer the same Katy. I'm different…and I'm not sure what that will mean in the end. When each step we take in discovering the truth puts us in the path of the secret organization responsible for torturing and testing hybrids, the more I realize there is no end to what I'm capable of. The death of someone close still lingers, help comes from the most unlikely source, and friends will become the deadliest of enemies, but we won't turn back. Even if the outcome will shatter our worlds forever.

Origin
Daemon will do anything to get Katy back. After the successful but disastrous raid on Mount Weather, he's facing the impossible. Katy is gone. Taken. Everything becomes about finding her. But the most dangerous foe has been there all along, and when the truths are exposed and the lies come crumbling down, which side will Daemon and Katy be standing on? And will they even be together?"
---
Ink by Amanda Sun:
Quite the unpopular choice of mine but I truly think that everyone should read this book! 1) the cover is super eye-pleasing, and is made out of a watercolour paper material. 2) It is based off of Japanese mythology, which isn't found too often in YA fiction. And 3) it is simply an amazing novel!
"On the heels of a family tragedy, the last thing Katie Greene wants to do is move halfway across the world. Stuck with her aunt in Shizuoka, Japan, Katie feels lost. Alone. She doesn't know the language, she can barely hold a pair of chopsticks, and she can't seem to get the hang of taking her shoes off whenever she enters a building.

Then there's gorgeous but aloof Tomohiro, star of the school's kendo team. How did he really get the scar on his arm? Katie isn't prepared for the answer. But when she sees the things he draws start moving, there's no denying the truth: Tomo has a connection to the ancient gods of Japan, and being near Katie is causing his abilities to spiral out of control. If the wrong people notice, they'll both be targets.

Katie never wanted to move to Japan—now she may not make it out of the country alive."
---
Pushing The Limits by Katie McGarry: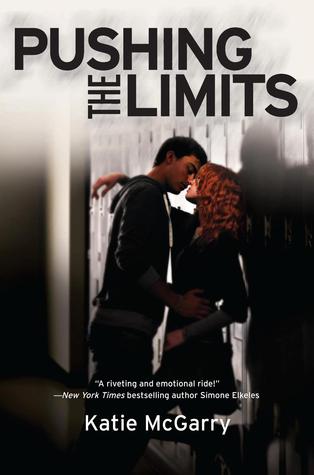 If I do remember correctly, I did mention that I love reading deep contemporaries in the winter. Well, this has actually been one of my favorite reads of the year! Although the subject of the book is very deep, it's very inspiring to read about Echo and Noah's journey throughout their troublesome senior year.
"So wrong for each other…and yet so right.

No one knows what happened the night Echo Emerson went from popular girl with jock boyfriend to gossiped-about outsider with "freaky" scars on her arms. Even Echo can't remember the whole truth of that horrible night. All she knows is that she wants everything to go back to normal. But when Noah Hutchins, the smoking-hot, girl-using loner in the black leather jacket, explodes into her life with his tough attitude and surprising understanding, Echo's world shifts in ways she could never have imagined. They should have nothing in common. And with the secrets they both keep, being together is pretty much impossible.Yet the crazy attraction between them refuses to go away. And Echo has to ask herself just how far they can push the limits and what she'll risk for the one guy who might teach her how to love again.."
---
Those are all of my Snowy Recommendations! I hope everyone has a good night and stays nice and warm wherever they are!
Happy Reading
~Alaina