"She was the heir of ash and fire, and she would bow to no one."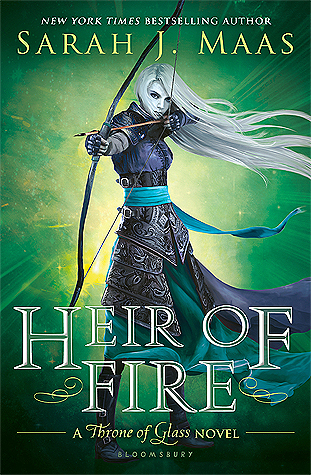 Information:
Title/Author: Heir of Fire by Sarah J. Maas
Publisher: Bloomsbury USA
Release Date: September 2, 2014
Page Count: 565
ISBN: 9781619630659
---
Synopsis:
Celaena has survived deadly contests and shattering heartbreak―but at an unspeakable cost. Now, she must travel to a new land to confront her darkest truth . . . a truth about her heritage that could change her life―and her future―forever. Meanwhile, brutal and monstrous forces are gathering on the horizon, intent on enslaving her world. Will Celaena find the strength to not only fight her inner demons, but to take on the evil that is about to be unleashed?
The bestselling series that has captured readers all over the world reaches new heights in this sequel to the New York Times best-selling Crown of Midnight. Packed with heart-pounding action, fierce new characters, and swoon-worthy romance, this third book will enthrall readers from start to finish.
---
Review:
Well, it's been awhile since I read this book so let's see how good I remembered it. Oh what am I even talking about…. I remember every single chapter of this novel. It was so phenomenal! Sarah surprised us with another clever masterpiece but this time, we got a whole load of handsomeness in our faces. Can you believe it?? We got another handsome freaking masterpiece of a male specimen to join our Bitch Queen's squad?? It's like a dream come true.
There were so many new characters in this book, including Mr. Hottie featured above. Rowan Whitethorn has now become one of my newest and most favorite book boyfriends. How can you even resist a fae with muscles and abs and a huge body tattoo? IT'S IMPOSSIBLE. But aside from Rowan, we also got introduced to Manon Blackbeak, her thirteen, and the other Witches. Although Manon isn't my favorite character in the series, she could definitely qualify for bravest and most stealthy. And how could I forget about poor little Abraxos who absolutely loves sniffing flowers. If anyone could beat Rowan for best character in this series, it would definitely be Abraxos.
I will start off by saying that I really hated the fact that Celaena was heading to Wendlyn in the first place. I didn't think it was right for Chaol to take charge and send her away but, it is what it is. But when I started reading Heir of Fire, I actually felt like Chaol did something right…. he set Celaena up with Rowan, really.
Now if we start talking about the different parts of the story, Celaena and Rowan's was the most complex. It involved rigorous training, cold nights, and being introduced to many new characters! It was so cool meeting all of the new semi-fae in this novel. Especially, the two that worked in the kitchen with Aelin (ugh I forget their names). But aside from everything they did, it was also so cute to watch Aelin and Rowan fall in love with each other (Rowaelin, my love). It was a very slow process. But when they realized that they couldn't live without each other, I may've had a mini heart attack. They're so cute together and such a good pairing for both battle and love.
Chaol and Aedion's storyline is very different from the others. It was entirely trying to track down Aelin. And to reveal if she was alive or not. Each of them had different relationships with Aelin. But each relationship brought them together as a team. Although I didn't really like these two together, I really loved how much effort they put in to track down their loved one.
Dorian, the magic wielder had a very tricky storyline. He was left trying to figure out how to control his magic powers on his own. That was, until Sorscha came into the Throne of Glass world. The always kind and respectful healer in the glass castle became one of my favorite characters so quickly through this novel because of her headstrong personality. But, she fell deeply and full-heartedly in love with Dorian and helped him evolve into the character he has become. Sadly, Sorscha risked her life fully for Dorian and we ended up losing her. RIP SORSCHA.
And then there's Manon.I didn't really like her at all in this book. I thought of her as plainly an ignorant queen. I didn't like her at all but she made the book how it was. She introduced us to a "further" world of witches in the Throne of Glass world. Which I really enjoyed!
---
That's it for today! I'm off to study for an upcoming social studies quiz. Hope you all have a good day/ night/ morning wherever you are. Happy Reading! ~Alaina