For anyone who doesn't already know, I set a reading goal for myself at the beginning of the year. My goal has been to read 50 books over the course of 2016 and although I've suffered through some terrible reading slumps through out the year, I'm still going strong! I've read a total of 37 books this year (a good quarter of those finished Wattpad novels) and I have less than two months to finish my reading goal. So, last night, I made a list of ten books I want to try to finish in the next two months to get super close to finishing my reading goal!
---
1) City of Lost Souls by Cassandra Clare:
This is actually my current read. I am just past the 200th page and am getting back into the swing of the Shadowhunter world since I took a little break to read a different book. Fortunately, I can hopefully see myself finishing this book later this week.
The New York Times bestselling Mortal Instruments continues—and so do the thrills and danger for Jace, Clary, and Simon.

What price is too high to pay, even for love? When Jace and Clary meet again, Clary is horrified to discover that the demon Lilith's magic has bound her beloved Jace together with her evil brother Sebastian, and that Jace has become a servant of evil. The Clave is out to destroy Sebastian, but there is no way to harm one boy without destroying the other. As Alec, Magnus, Simon, and Isabelle wheedle and bargain with Seelies, demons, and the merciless Iron Sisters to try to save Jace, Clary plays a dangerous game of her own. The price of losing is not just her own life, but Jace's soul. She's willing to do anything for Jace, but can she still trust him? Or is he truly lost?

Love. Blood. Betrayal. Revenge. Darkness threatens to claim the Shadowhunters in the harrowing fifth book of the Mortal Instruments series.
---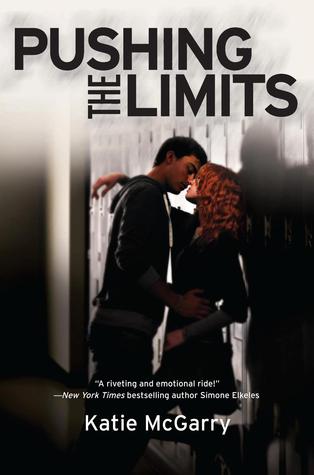 2) Pushing The Limits by Katie McGarry:
I've really been wanting to read this book since I bought it from a local used book sale. It's my type of contemporary read so I'm expecting a quick and fun read! Hopefully this book doesn't go below my expectation because I don't have time to pause and wait for a book to get better.
"I won't tell anyone, Echo. I promise." Noah tucked a curl behind my ear. It had been so long since someone touched me like he did. Why did it have to be Noah Hutchins? His dark brown eyes shifted to my covered arms. "You didn't do that-did you? It was done to you?" No one ever asked that question. They stared. They whispered. They laughed. But they never asked.

So wrong for each other…and yet so right.

No one knows what happened the night Echo Emerson went from popular girl with jock boyfriend to gossiped-about outsider with "freaky" scars on her arms. Even Echo can't remember the whole truth of that horrible night. All she knows is that she wants everything to go back to normal. But when Noah Hutchins, the smoking-hot, girl-using loner in the black leather jacket, explodes into her life with his tough attitude and surprising understanding, Echo's world shifts in ways she could never have imagined. They should have nothing in common. And with the secrets they both keep, being together is pretty much impossible.Yet the crazy attraction between them refuses to go away. And Echo has to ask herself just how far they can push the limits and what she'll risk for the one guy who might teach her how to love again.. 
---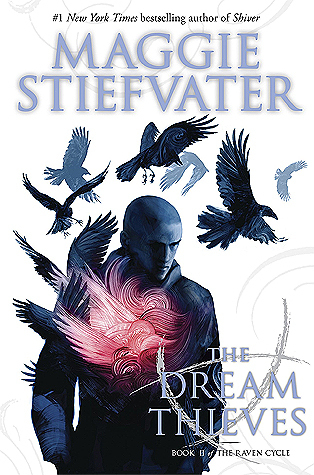 3) The Dream Thieves by Maggie Stiefvater:
I've been wanting to dive back into the world of Ley lines and Raven Boys for such a long time. And, I've heard that there's a LOT of Ronan in this book so it's a triple score for me!
The second installment in the all-new series from the masterful, #1 NEW YORK TIMES bestselling author Maggie Stiefvater!

Now that the ley lines around Cabeswater have been woken, nothing for Ronan, Gansey, Blue, and Adam will be the same. Ronan, for one, is falling more and more deeply into his dreams, and his dreams are intruding more and more into waking life. Meanwhile, some very sinister people are looking for some of the same pieces of the Cabeswater puzzle that Gansey is after…
---
4) Faceless by Alyssa Sheinmel:
I've had this book on my shelf for almost a year now, which is pretty insane. I bought it at my old school's book fair and haven't got to it yet. But, it's a decently short book so I couldn't help but add it to my year-end TBR!
When Maisie Winters wakes up, she's in the hospital.

The last thing she remembers is running through the hills of her neighborhood one misty morning. Slowly, she puts the pieces together. Before she could make it home, a storm gathered. Lightning hit a power line and sparks rained down, the hot-burning electrical fire consuming her. Destroying her face. Where her nose, cheeks, and chin used to be, now there is…nothing.

Maisie's lucky enough to qualify for a rare medical treatment: a face transplant. At least, everyone says she's lucky. But with someone else's features staring back at her in the mirror, Maisie looks—and feels—like a stranger. The doctors promised that the transplant was her chance to live a normal life again, but nothing feels normal anymore. Before, she knew who she was—a regular girl who ran track and got good grades, who loved her boyfriend and her best friend. Now, she can't even recognize herself.

New York Times bestselling author Alyssa Sheinmel has created a gripping and gorgeously written tale of identity and love. This is a story of losing yourself and the long, hard fight to find your way back.
---
5) Dreamland by Robert L. Anderson:
Another book I've had on my shelf FOREVER. I won this in a giveaway last year but I kept losing interest in reading it. But now, I'm sort of in the mood for a creepy paranormal read (really, when am I not?). So, let's see if I'll finish it before the end of December!
Odea Donahue has been able to travel through people's dreams since she was six years old. Her mother taught her the three rules of walking: Never interfere. Never be seen. Never walk the same person's dream more than once. Dea has never questioned her mother, not about the rules, not about the clocks or the mirrors, not about moving from place to place to be one step ahead of the unseen monsters that Dea's mother is certain are right behind them.

Then a mysterious new boy, Connor, comes to town and Dea finally starts to feel normal. As Connor breaks down the walls that she's had up for so long, he gets closer to learning her secret. For the first time she wonders if that's so bad. But when Dea breaks the rules, the boundary between worlds begins to deteriorate. How can she know what's real and what's not? 
---
6) City of Heavenly Fire by Cassandra Clare:
Well, if there's any book that's going to stop me from reaching my goal, it's this. A whole 700-800 pages to read. With the time I have left, I don't know if I'll be able to finish this in half a week! But, I'm always up to a challenge!
In this dazzling and long-awaited conclusion to the acclaimed Mortal Instruments series, Clary and her friends fight the greatest evil they have ever faced: Clary's own brother.

Sebastian Morgenstern is on the move, systematically turning Shadowhunter against Shadowhunter. Bearing the Infernal Cup, he transforms Shadowhunters into creatures out of nightmare, tearing apart families and lovers as the ranks of his Endarkened army swell.

The embattled Shadowhunters withdraw to Idris – but not even the famed demon towers of Alicante can keep Sebastian at bay. And with the Nephilim trapped in Idris, who will guard the world against demons?

When one of the greatest betrayals the Nephilim have ever known is revealed, Clary, Jace, Isabelle, Simon, and Alec must flee – even if their journey takes them deep into the demon realms, where no Shadowhunter has set foot before, and from which no human being has ever returned…

Love will be sacrificed and lives lost in the terrible battle for the fate of the word in the thrilling final installment of the classic urban fantasy series The Mortal Instruments!
---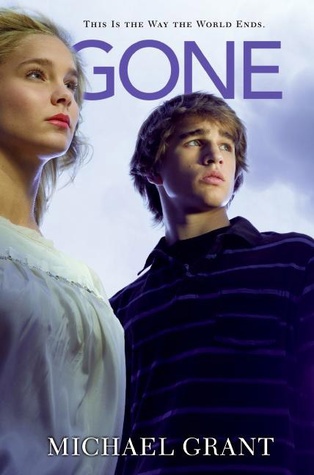 7) Gone by Michael Grant:
This should be a simple book to finish. Long, but short pages. It's also dystopian, I'm pretty sure (which isn't my favorite but I'll survive). Shouldn't be too hard, right?
In the blink of an eye, everyone disappears. Gone. Except for the young.

There are teens, but not one single adult. Just as suddenly, there are no phones, no internet, no television. No way to get help. And no way to figure out what's happened.

Hunger threatens. Bullies rule. A sinister creature lurks. Animals are mutating. And the teens themselves are changing, developing new talents—unimaginable, dangerous, deadly powers—that grow stronger by the day. It's a terrifying new world. Sides are being chosen, a fight is shaping up. Townies against rich kids. Bullies against the weak. Powerful against powerless. And time is running out: On your 15th birthday, you disappear just like everyone else… 
---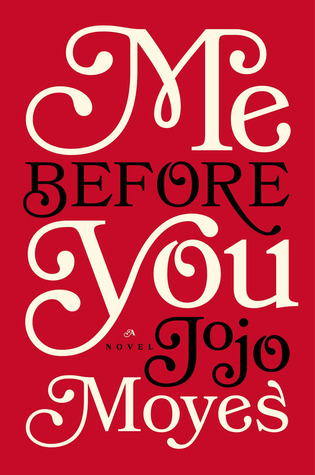 8) Me Before You by JoJo Moyes:
I've been dying to experience this sob-worthy novel. I have heard such great reviews around the world for it and absolutely cannot wait to read it! And it's pretty short, so there's a definite score with this book!
They had nothing in common until love gave them everything to lose . . .

Louisa Clark is an ordinary girl living an exceedingly ordinary life—steady boyfriend, close family—who has barely been farther afield than their tiny village. She takes a badly needed job working for ex–Master of the Universe Will Traynor, who is wheelchair bound after an accident. Will has always lived a huge life—big deals, extreme sports, worldwide travel—and now he's pretty sure he cannot live the way he is.

Will is acerbic, moody, bossy—but Lou refuses to treat him with kid gloves, and soon his happiness means more to her than she expected. When she learns that Will has shocking plans of his own, she sets out to show him that life is still worth living.

A Love Story for this generation and perfect for fans of John Green's The Fault in Our Stars, Me Before You brings to life two people who couldn't have less in common—a heartbreakingly romantic novel that asks, What do you do when making the person you love happy also means breaking your own heart?
---
9) The Carrie Diaries by Candace Bushnell:
Well, this book is one of my last-minute picks. It's not really up my ally, seeing that it's like a Sex and the City prequel but, it's short. So with that said, it'll probably be one of the last ones I get to from this list.
Before Carrie Bradshaw hit the big time in the City, she was a regular girl growing up in the suburbs of Connecticut. How did she turn into one of the most-read social observers of our generation?

The Carrie Diaries opens up in Carrie's senior year of high school. She and her best friends — Walt, Lali, Maggie, and the Mouse — are inseparable, amid the sea of Jens, Jocks and Jets. And then Sebastian Kydd comes into the picture. Sebastian is a bad boy-older, intriguing, and unpredictable. Carrie falls into the relationship that she was always supposed to have in high school-until a friend's betrayal makes her question everything. With her high school days coming to a close, Carrie will realize it's finally time to go after everything she ever wanted.

Rabid fans of Sex and the City will love seeing Carrie Bradshaw evolve from a regular girl into a sharp, insightful writer. They'll learn about her family background — how she found her writing voice, and the indelible impression her early friendships and relationships left on her. We'll see what brings Carrie to her beloved New York City, where the next Carrie Diaries book will take place.
---
10) Wuthering Heights by Emily Bronte:
I have previously read "part" of this book. In 2015, I got halfway through this book before dropping it. But now that Winter is approaching, it feels like the perfect time to pick up this romantic classic!
Wuthering Heights is a wild, passionate story of the intense and almost demonic love between Catherine Earnshaw and Heathcliff, a foundling adopted by Catherine's father. After Mr Earnshaw's death, Heathcliff is bullied and humiliated by Catherine's brother Hindley and wrongly believing that his love for Catherine is not reciprocated, leaves Wuthering Heights, only to return years later as a wealthy and polished man. He proceeds to exact a terrible revenge for his former miseries. The action of the story is chaotic and unremittingly violent, but the accomplished handling of a complex structure, the evocative descriptions of the lonely moorland setting and the poetic grandeur of vision combine to make this unique novel a masterpiece of English literature.
---
This list is prone to change. I'll probably buy new books before the end of December. And I also might decide to start a book I receive for Christmas before the end of the year. But, hopefully I didn't make my list too intense so that I can reach my goal! Hope you all have a great day or night wherever you are. Happy Reading! ~Alaina