"Leaves of gold, auburn and orange tumbled off of the trees, falling into colorful piles on the muddy grass."
October was such a good month! And not just with reading. I celebrated my birthday, did pretty good in school and may or may not have stuffed my face with chocolate. And in my opinion, all of that equals a pretty good month! And my oh my, I definitely could've gone for another reread of Obsidian this past month! I wish I did but sadly I didn't have enough time. So for today's post, I'm going to be showing you all the books I read and bought/received this past month. Without further ado, let's dive straight into this post!
Books I Read In October:
---
Queen of Shadows by Sarah J. Maas:
This book was definitely another masterpiece by Sarah. She just doesn't disappoint. It was jam-packed with action, swoon-worthy romance and to-die-for hot guys. Definitely recommend you pick this up if you've read up to Heir Of Fire in the series!
"The queen has returned.

Everyone Celaena Sardothien loves has been taken from her. But she's at last returned to the empire—for vengeance, to rescue her once-glorious kingdom, and to confront the shadows of her past…

She has embraced her identity as Aelin Galathynius, Queen of Terrasen. But before she can reclaim her throne, she must fight.

She will fight for her cousin, a warrior prepared to die for her. She will fight for her friend, a young man trapped in an unspeakable prison. And she will fight for her people, enslaved to a brutal king and awaiting their lost queen's triumphant return.

The fourth volume in the New York Times bestselling series continues Celaena's epic journey and builds to a passionate, agonizing crescendo that might just shatter her world."
---
White Hot Kiss by Jennifer L. Armentrout:
Jennifer still doesn't stop surprising me! Although I cannot say that this book was better than anything in the Lux series, it was still fabulous. This was definitely a drop-everything-and-read-because-you-need-a-daily-dose-of-hot-guys!
"One kiss could be the last.

Seventeen-year-old Layla just wants to be normal. But with a kiss that kills anything with a soul, she's anything but normal. Half demon, half gargoyle, Layla has abilities no one else possesses.

Raised among the Wardens—a race of gargoyles tasked with hunting demons and keeping humanity safe—Layla tries to fit in, but that means hiding her own dark side from those she loves the most. Especially Zayne, the swoon-worthy, incredibly gorgeous and completely off-limits Warden she's crushed on since forever.

Then she meets Roth—a tattooed, sinfully hot demon who claims to know all her secrets. Layla knows she should stay away, but she's not sure she wants to—especially when that whole no-kissing thing isn't an issue, considering Roth has no soul.

But when Layla discovers she's the reason for the violent demon uprising, trusting Roth could not only ruin her chances with Zayne… it could brand her a traitor to her family. Worse yet, it could become a one-way ticket to the end of the world."
---
The Murder Complex by Lindsay Cummings:
I was in the mood for something "creepy" and this book was exactly what I wanted! Its a horrific (but amazing) book about a murder complex (hence the title). Well not just that but, it's basically a book about a girl named Meadow who is fighting for her life, and Zephyr, who is a part of the murder complex.
"An action-packed, blood-soaked, futuristic debut thriller set in a world where the murder rate is higher than the birthrate. For fans of Moira Young's Dust Lands series, La Femme Nikita, and the movie Hanna.

Meadow Woodson, a fifteen-year-old girl who has been trained by her father to fight, to kill, and to survive in any situation, lives with her family on a houseboat in Florida. The state is controlled by The Murder Complex, an organization that tracks the population with precision.

The plot starts to thicken when Meadow meets Zephyr James, who is—although he doesn't know it—one of the MC's programmed assassins. Is their meeting a coincidence? Destiny? Or part of a terrifying strategy? And will Zephyr keep Meadow from discovering the haunting truth about her family?

Action-packed, blood-soaked, and chilling, this is a dark and compelling debut novel by Lindsay Cummings."
---
Books I Hauled:
---
The Infernal Devices series by Cassandra Clare:
I received this series as a birthday present from my grandparents and I absolutely cannot wait to get to it! I'm not quite finished The Mortal Instruments but, the Shadowhunter world is one of my favorites to read! It's packed with shadowhunters, vampires, demons, Nephilim, warlocks, fae and many more supernatural creatures! Given below is the synopsis of book 1, Clockwork Angel:
"In a time when Shadowhunters are barely winning the fight against the forces of darkness, one battle will change the course of history forever. Welcome to the Infernal Devices trilogy, a stunning and dangerous prequel to the New York Times bestselling Mortal Instruments series.

The year is 1878. Tessa Gray descends into London's dark supernatural underworld in search of her missing brother. She soon discovers that her only allies are the demon-slaying Shadowhunters—including Will and Jem, the mysterious boys she is attracted to. Soon they find themselves up against the Pandemonium Club, a secret organization of vampires, demons, warlocks, and humans. Equipped with a magical army of unstoppable clockwork creatures, the Club is out to rule the British Empire, and only Tessa and her allies can stop them…  "
---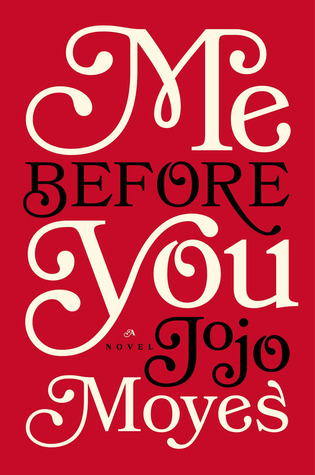 Me Before You by Jojo Moyes:
When I saw this at my local thrift store, I couldn't believe it. It's such a popular book that is worth over $20 that was just sitting alone on the shelf. So I thought, "oh, why not?" and bought it. I've wanted to read this book ever since I heard about the movie. And I am really hoping I can get to this book soon!
"They had nothing in common until love gave them everything to lose . . .

Louisa Clark is an ordinary girl living an exceedingly ordinary life—steady boyfriend, close family—who has barely been farther afield than their tiny village. She takes a badly needed job working for ex–Master of the Universe Will Traynor, who is wheelchair bound after an accident. Will has always lived a huge life—big deals, extreme sports, worldwide travel—and now he's pretty sure he cannot live the way he is.

Will is acerbic, moody, bossy—but Lou refuses to treat him with kid gloves, and soon his happiness means more to her than she expected. When she learns that Will has shocking plans of his own, she sets out to show him that life is still worth living.

A Love Story for this generation and perfect for fans of John Green's The Fault in Our Stars, Me Before You brings to life two people who couldn't have less in common—a heartbreakingly romantic novel that asks, What do you do when making the person you love happy also means breaking your own heart"
---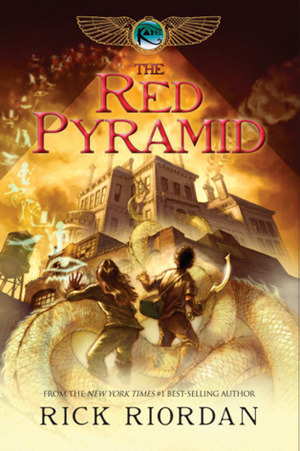 The Red Pyramid by Rick Riordan:
Ok so, I've never actually read a Rick Riordan book before. And of course I'm going to read Percy Jackson first but, how could I resist a $2 book? I couldn't. So I bought it and it's going to sit and get dusty on my bookshelf for a while.
"Since their mother's death, Carter and Sadie have become near strangers. While Sadie has lived with her grandparents in London, her brother has traveled the world with their father, the brilliant Egyptologist, Dr. Julius Kane.

One night, Dr. Kane brings the siblings together for a "research experiment" at the British Museum, where he hopes to set things right for his family. Instead, he unleashes the Egyptian god Set, who banishes him to oblivion and forces the children to flee for their lives.

Soon, Sadie and Carter discover that the gods of Egypt are waking, and the worst of them —Set— has his sights on the Kanes. To stop him, the siblings embark on a dangerous journey across the globe – a quest that brings them ever closer to the truth about their family and their links to a secret order that has existed since the time of the pharaohs."
---
The Best Kind Of People by Zoe Whittall:
My dad was nice enough to give me this book! But, I really don't know anything about it so I'm just going to insert the synopsis about the book below:
What if someone you trusted was accused of the unthinkable?

George Woodbury, an affable teacher and beloved husband and father, is arrested for sexual impropriety at a prestigious prep school. His wife, Joan, vaults between denial and rage as the community she loved turns on her. Their daughter, Sadie, a popular over-achieving high school senior, becomes a social pariah. Their son, Andrew, assists in his father's defense, while wrestling with his own unhappy memories of his teen years. A local author tries to exploit their story, while an unlikely men's rights activist attempts to get Sadie onside their cause. With George locked up, how do the members of his family pick up the pieces and keep living their lives? How do they defend someone they love while wrestling with the possibility of his guilt?

With exquisite emotional precision, award-winning author Zoe Whittall explores issues of loyalty, truth, and the meaning of happiness through the lens of an all-American family on the brink of collapse.
---
That's it for today! I'm really hoping to get my November TBR up soon but I'm off to do homework now! Have a good weekend! ~Alaina