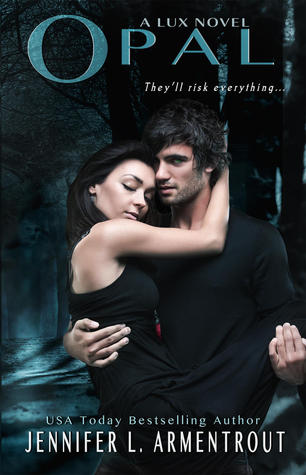 Information:
Title and Author: Opal by Jennifer L. Armentrout
Publisher: Entangled Teen
Release Date: December 11, 2012
ISBN: 9781620610091
One Sentence Review: A stellar, riveting and heart wrenchingly amazing installment to the Lux series!
**WARNING: THERE WILL MOST DEFINITELY BE SPOILERS, READ AT YOUR OWN RISK.**
Synopsis:
After everything, I'm no longer the same Katy. I'm different… And I'm not sure what that will mean in the end. When each step we take in discovering the truth puts us in the path of the secret organization responsible for torturing and testing hybrids, the more I realize there is no end to what I'm capable of. The death of someone close still lingers, help comes from the most unlikely source, and friends will become the deadliest of enemies, but we won't turn back. Even if the outcome will shatter our worlds forever.
Together we're stronger… and they know it.
Rating:
5/5 stars
My Thoughts:
Every book in the Lux series just shouts "pick me up when you're in a reading slump". And let me tell you, they can definitely get you out of one! This book was such an exciting, fast-paced novel that I was never left with a dull moment. It was such a lively and fun novel that I couldn't wait to pick up the next novel.
At the start of this novel, I was so happy that we got to learn a bit more about Dawson. His relationship with Katy was so cute and I loved how they had a brother-sister relationship with each other. Also, can I just say that I would've never thought that a Florida native seeing snow for the first time would be so…. amazed? It is one of the prettiest things to be seen but I thought that the author was dramatizing a bit with her reaction. Like come on Katy, you don't have to go and sit in the freezing snow when you first see it! But aside from that, I actually loved how Jennifer incorporated each season through out the series. It was so cool since most authors don't describe the weather!
And ugh, my god Will is an idiotic fool. No, actually, a psychopathic idiotic fool. He actually tried to hook up with a lady because the lady's daughter was dating an alien who could mutate him and save him from dying. Well, He just run into some trouble throughout Opal. HIS PLAN TOTALLY BACKFIRED!!! Katy saved the day once again.
One of my favorite things about this story was how much more we got to know Andrew, Ash, Matthew and my little Luc. Awe that little teenage mafia. Though I still have my crush on Daemon Black (betting y'all already knew that), I can't help but resist Luc. But, I really loved how much all of the main characters have evolved from the first book. They've become more mature throughout the novels which I really loved!
The Writing in this novel was so lively and addicting. Jennifer leaves your face stuck in the book for hours on end. If you are interested in reading this series, definitely start with Obsidian (book #1 in the series). I hope you enjoyed this short but indepth rant about this novel!
Happy Reading!~Alaina