Hey everyone! Today I am back to bring you guys my August Wrap-Up and Haul. August has finally come to an end and so has summer. Although I am slightly disappointed, I am quite excited for the months ahead! The leaves are going to start falling, leaving piles of auburn coloured leaves lying on the ground. School's going to start and I will be hidden under piles of homework for weeks on end. And soon enough, we will be bringing our pumpkins and Christmas trees out! Fall has so much to come and I'm excited to see what awaits me.
But let's get back to the topic of the post. August was an amazing reading month for me! I read 6 books and only hauled one. I would've loved to have gone to the bookstore more than once but I'm still very happy with my purchase of the month! So now, without further ado, let's dive straight into this post!
Wrap-Up:
I will be putting the link to the Goodreads page in the title of each book and linking my reviews (if posted) and some stores to buy the books too.
Since You've Been Gone by Morgan Matson: 4.5 Stars
This book was so incredibly amazing. It features both flashbacks and reality scenes of Emily's life. Basically, Emily is sent a list from her best friend Sloane right after she disappears. The list features some crazy things including skinny dipping, kissing a stranger and stealing stuff. But then again, there are things on the list that don't make any sense until you read the book: riding a horse, asking for Mona at a store and wearing a backless dress somewhere. All in all, I had so much fun following Emily as she made new friends, completed the tasks on the list and tried to figure out "the mystery of Sloane". If you haven't read this book yet, I highly suggest you get on with it. It is totally worth it. And even, Morgan Matson is basically the queen of Contemporary!
My Review: Click Here     Buy The Book: B&N | Chapters | Amazon | Book Depository
---
Shadows by Jennifer L. Armentrout (novella): 5/5 Stars
I absolutely loved reliving Dawson and Bethany's story. They are the cutest and sweetest couple ever. And as said in one of the Lux novels, "Dawson and Bethany were like the Romeo and Juliet of West Virginia". Well, it wasn't worded exactly like that but kind of along those lines. In this novella, you get a little sneak peek at Ketterman, West Virginia before Katy arrived. The story is told in both Bethany and Dawson's POV which let's us meet characters we never saw in the Lux series (Beth's family). I also really loved getting to know Beth since she isn't featured too much in the overall series. This novella was such a great opener to the whole series! And I know that at the moment you can only buy a physical copy of it in Opposition but definitely start the series on this book. Read it in chronological order of release date instead of by how they are in the bind-up books.
This book is currently only available in ebook form or it can be found at the back of your copy of Opposition. The links below will vary from preorders of the physical copy and copies of Opposition.
Buy The Book: B&N | Chapters | Amazon | Book Depository
---
Obsidian by Jennifer L. Armentrout: 5/5 Stars
This book once again left me speechless. For those who didn't know, Obsidian is my favorite book EVER and somehow nothing has beat it yet. It's just so amazing. This book follows Katy Swartz as she moves to West Virginia and ends up moving right next to a house full of aliens. Quite a different topic for YA literature, don't you thing? This book is one of those books that leaves a mark on you. For instance, this was my inspiration for blogging. And blogging and reading has become my life now, just like how it was for Katy! And, if you didn't know, this book features a certain someone by the name of Daemon Black. And who doesn't want a copy of Daemon Black for themselves? YES PLEASE! This book should definitely be moved up on your TBR if you haven't read it yet because everyone needs a bit of Daemon Black in their lives. But overall, it's an absolutely amazing book that should be read and praised by everyone!
My Review: Click Here     Buy The Book: B&N | Chapters | Amazon | Book Depository
---
Oblivion by Jennifer L. Armentrout: 5/5 stars
Oblivion was an absolute joy ride! Getting to view Obsidian from Daemon's perspective was so much fun! Basically, Oblivion is the whole book of Obsidian written in Daemon's point-of-view. I loved reading through Daemon's jerk days from his own POV and watching his love for Katy develop. But most of all, I had so much fun reliving all of my favorite scenes from Obsidian in Daemon's POV: the car washing, the laptop, the truck, and so many others! But what really surprised me was that Jennifer added new scenes to this book that weren't in Obsidian: the cookout. Even though this book was a reread for me, I still loved it as much as I loved it the first time. And, I will probably go back and reread it again some time in the future!
My Review: Click Here      Buy The Book: B&N | Chapters | Amazon | Book Depository
---
Onyx by Jennifer L. Armentrout: 5/5 Stars
My reread of this book was actually better than reading it for the first time. I don't actually know why but it just was. I've always counted Onyx as my least favorite book in the series but now I have no clue where it sits. It's just such a good book. So, in Onyx we follow Katy and Daemon's relationship as it ventures a little deeper. We also get to meet some new characters (Blake) and say goodbye to others. This book made me flat out cry. I tried not too but I just couldn't hold back. Onyx is one of those sequels that you really love but you can't entirely piece together what you loved about it. We got to know all of the Luxen a bit better and watched Daemon and Katy's relationship become something more than friends. But, I've got to say that I hated how little Dee was in the book. She's a main character and it just felt like Blake took her place. I definitely recommend everyone reads this if they've read Obsidian!
Buy The Book: B&N | Chapters | Amazon | Book Depository
---
Opal by Jennifer L. Armentrout: 5/5 Stars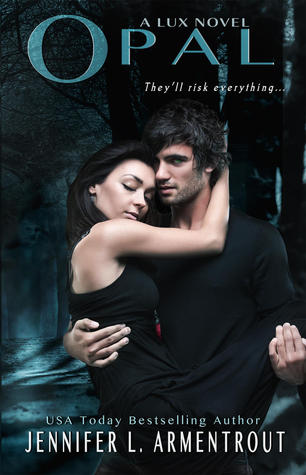 This book was so good! It had all of the thrill that the first two books had with the addition of some romance! Opal follows Daemon and Katy as their relationship gets deeper and stronger! Dawson also makes an appearance as a main character in this novel which was really nice! Having the Black triplets all together again was fantastic. But, none of the Black's stole the spotlight in this novel. It was all Katy. Things happened to her that you would never expect in this novel. People turned against her and Daedalus played a huge role. I was overly surprised with how much loving Andrew and Ash showed in the novel and how little Dee did. Yes, things happened with their loved ones and at first Ash and Andrew weren't okay with it but they started being quite a bit nicer to Kat by the end. And Dee, well let's just say she was having some major mood swings. Highly recommend everyone reads this if they've finished the first two books in the series!
Buy The Book: B&N | Chapters | Amazon | Book Depository
---
Haul:
An Ember In The Ashes by Sabaa Tahir
I actually don't really know what this book is about. I've just wanted it for a long time and since there was a lot of rave going on with it's sequel, I decided to finally get it. And even, what better time to start a book than when the sequel is released. Then you can dive straight into the sequel if you like the first one! So, since I don't know much about this book, I will be inserting the Goodreads synopsis below:
Laia is a slave. Elias is a soldier. Neither is free.

Under the Martial Empire, defiance is met with death. Those who do not vow their blood and bodies to the Emperor risk the execution of their loved ones and the destruction of all they hold dear.

It is in this brutal world, inspired by ancient Rome, that Laia lives with her grandparents and older brother. The family ekes out an existence in the Empire's impoverished backstreets. They do not challenge the Empire. They've seen what happens to those who do.

But when Laia's brother is arrested for treason, Laia is forced to make a decision. In exchange for help from rebels who promise to rescue her brother, she will risk her life to spy for them from within the Empire's greatest military academy.

There, Laia meets Elias, the school's finest soldier—and secretly, its most unwilling. Elias wants only to be free of the tyranny he's being trained to enforce. He and Laia will soon realize that their destinies are intertwined—and that their choices will change the fate of the Empire itself.
Sounds pretty interesting to me!
Buy The Book: B&N | Chapters | Amazon | Book Depository
---
Total amount of pages read: 2061
I am super proud of how many books I read this month. Usually I only get two done a month and this month I got six! All six of the books I read were AMAZING! Hopefully September will be just as good of a reading month!
Until next time, Happy Reading!
~Alaina