Hey everybody! It's Alaina and I'm back with another review. Yes, I know, there have been a million reviews posted on my blog recently. That's all because I went through a blogging slump for a few months and I was never able to write up all of my reviews. But, August was the month where I finally conquered my blogging slump. And now I'm able to write all the time! So, today's review is on Since You've Been Gone by Morgan Matson. It is such an amazing and inspiring book for teenagers. I definitely recommend it to anyone who need a cheer-me-up, summery read!
Synopsis: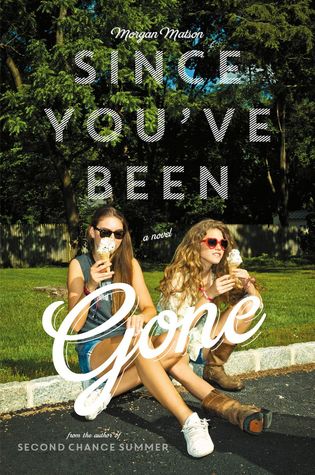 It was Sloane who yanked Emily out of her shell and made life 100% interesting. But right before what should have been the most epic summer, Sloane just…disappears. All she leaves behind is a to-do list.
On it, thirteen Sloane-inspired tasks that Emily would normally never try. But what if they could bring her best friend back?
Apple picking at night? Okay, easy enough.
Dance until dawn? Sure. Why not?
Kiss a stranger? Um…
Emily now has this unexpected summer, and the help of Frank Porter (totally unexpected), to check things off Sloane's list. Who knows what she'll find?
Go skinny-dipping? Wait…what?
My Thoughts:
I was sold the minute I read the summary of the book. Contemporary isn't really my type of thing so when I do read a book in that genre, I always want it to leave a good impression on me. And this one has done exactly that! It has also become one of my favorite books of the year but, I think I am finally coming to like contemporary more and more!
The writing in this book was different than the other contemporaries I had read in the past. Morgan took us on a ride in and out of Emily's reality. She took us to the times where Sloane and Emily would go bargain shopping for the best vintage clothes in the world. And then she would pull us out of the flashback and back to Emily's reality without Sloane. Although I absolutely loved the flashbacks with Sloane, I have to give it to Emily's reality for the best side of the story!
The characters in this story are sort of like people you would see in the real world. First there is Emily, your average, shy, teenager. She's quite the introvert and doesn't like doing things that she may regret. But with the help of Sloane's list, she becomes less of an introvert and more of the adventurous person that Emily was meant to be! And that's how she meets Frank, Collins and Dawn (aka her BFFs Forever). None of them would've actually ever became friends without Sloane's help. Frank is the school's genius, always going off to a prestigious school over the summer with his super smart girlfriend. Collins is Frank's best friend and an extreme partier. And then there's Dawn who had the worst chance of ever meeting Emily. But somehow Sloane played "Gatherer" and brought all of these amazing people together, which I loved!
But, that's not all of the characters. I just couldn't leave out mentioning Emily's family in this post. They are the most creative, crazy and insane bunch. Her parents will drop all of their plans, stash up on a lot of non-perishable food and write a play for two months straight. and then there's little Beckett who is seriously the most insane kid I have ever read about. I don't even know how he does it but, he sits at the top of doorframes all day/every day. Insane right?!
What I really love about this book was how inspiring it was. It shows teenagers that they may find times in their life where they think their life is perfect, but then it suddenly disappears. And you have to try to move on. You will find new people, with or without a letter. I don't know if this was actually what Morgan Matson was going for in her book but that's what I found in it.
Now, can I just make a short comment on how insane some of the things on Sloane's list are? Skinny-dipping? Kiss a Stranger? And then there are other things on the list that don't make any sense until you actually read the book: Ride a horse, The Backless Dress. But somehow all of these things come together and Frank, Dawn, Emily and Collins accomplish all of them.
For anyone who needs a summery, pick-me-up, contemporary, be sure to go and grab this book. Since You've Been Gone is an unforgettable, fast-paced, laugh-till-you-die novel! You will really want to pick up another Morgan Matson book when you finish it!
5/5 stars!
Thank you all for reading this post! I will most likely be back tomorrow with another review but who knows. Maybe I'll surprise all of you with a tag post instead!
Happy Reading,
~Alaina